Atonement worship at Bhimeshwor Temple, Prasad to be sent to Prez
October 2, 2017 | 8:57 pm&nbsp&nbsp&nbsp&nbsp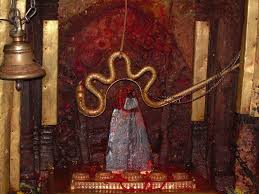 Dolakha / Oct 2:The Dolakha Bhimeshwor Temple authorities in Dolakha have conducted 'Kshyama Puja' (atonement worship) with special rituals in the Temple today.
Sweat beads were spotted on the idol of deity Bhimsen at the Temple twice in the same day around a week ago.
The idol perspiring is taken as the sign of bad omen in the nation and the tradition has it that the Head-of-State either performs the atonement worship or sends the puja materials to the Temple to ward off the possibility of something disastrous.
Materials for performing worship were sent by the Office of President. The devotional offering, Prasad, made to the deity, second of the five Pandava brothers in Mahabharata, would be sent to the Office of President to be shared by the President.
The atonement worship was followed the chants of Laghu-Rudri by 13 priests.
As the idol of Bhimsen perspires, the sweats are wiped off by wad of cottons from it and sent to the President. Puja materials are sent to the Temple to perform forgiveness rituals thereafter.
Receiving the wad of cotton containing the sweat of the idol, President Bhandari wished that may the crisis is averted in the country, according to the Bhimeshwor Temple authorities.
Representative from various local authorities in Dolakha were present in the atonement worship, said Chair of Bhimeshwor Municipality-2 Biraj Shrestha.
As a part of the special ceremony seeking forgiveness, animal sacrifice of two goats, each from the government and the locals, was also made after the Laghu-Rudri. RSS