Nepal's identity is Hindu nation: RPP Chair Thapa
October 7, 2017 | 10:03 pm&nbsp&nbsp&nbsp&nbsp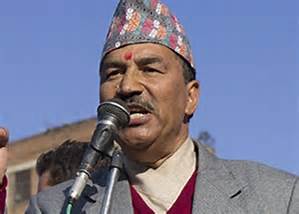 Kathmandu / Oct 7:Rastriya Prajatantra Party Chairman Kamal Thapa today said that the RPP has called for reinstating Nepal as a Hindu nation since that was the country's identity for the last five thousand years.
Inaugurating the Nepal Sanatan Religion and Culture Organisation in the Capital on Saturday, he said this topic could not be incorporated in the present constitution as the number required for doing so could not be managed in the Constituent Assembly at the time of drafting the constitution.
Stating that only 25 members of his party were in support of the Hindu state while putting it to a vote before promulgating the constitution, the RPP chairman said, "Nepal had been a Hindu nation in the past, it is a Hindu Nation at present and it will be so in the future also."
The social goodwill and the relations between the nation and the family in Nepal are guided by the Sanatan values, he argued.
RPP chairman Thapa also hinted at collaboration with other parties that share his party's ideological perspective of Nepal as a Hindu nation with equality of all religions.
Guru Padmacharya, President of the Bindabasini Adhyatmik Sangh Keshav Chaulagain, President of Hindu Jagaran Nepal Ram Krishna Upadhyay and President of Nepal Sanatan Dharma Sanskriti Sangathan Pushpa Raj Purush among the speakers underlined the need of reinstating Nepal as a Hindu nation by promoting political consciousness in the religious sector. RSS