Murder-convict Maoist leader Dhungel arrested; Dhungel to stay in jail for 12.5 years
October 31, 2017 | 8:29 pm&nbsp&nbsp&nbsp&nbsp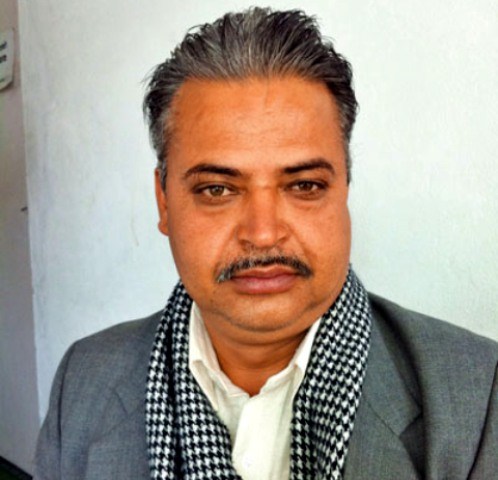 Kathmandu / Oct 31: The Central Investigation Bureau (CIB) of Nepal Police has arrested Maoist leader Bal Krisha Dhungel who has been convicted of murder of Ujjan Kumar Shrestha of Okhaldhunnga.
Dhungel will be handed over to the court, a police source said. "He's been arrested as per the Apex Court's order.
However, pressure is pouring in from Maoist leaders demanding his release," the source said. Dhungel's arrest comes after a writ filed against IGP Prakash Aryal at the Apex Court.
Dhungel to stay in jail for 12.5 years
The Kathmandu District Court on Tuesday ordered more than 12 years jail term to the CPN Maoist Centre leader Bal Krishna Dhungel. He has been sent to Dillibazar-based prison to serve the jail term.
The Court sentenced 12 years five months and 22 days jail term to him.
Police had nabbed the absconding murder convict from his rented room in Satdobato of Lalitpur district at 11:00 am this morning.
Dhungel was convicted in the murder case of Ujjan Kumar Shrestha, a resident of his home district, Okhaldhunga. He was arrested after 19 years of the incident and 13 years of the Court's verdict.
The SC had convicted him of murder on January 3, 2010. He was sentenced life imprisonment with property seizure by the Supreme Court.
Dhungel, who spent almost eight years in prison during the trial of the case, was yet to serve the sentence of almost 12 and half years.
Shrestha was murdered on June 24, 1998, at Tarkerabari of Okhaldhunga and his body was thrown into a river.
The Baburam Bhattarai-led government had decided to pardon Dhungel on November 8, 2011, against which the victim's sister Sabitri had filed a writ of certiorari at the apex court on November 10, 2011.
While the Appellate Court had rejected the District Court order for life imprisonment and confiscation of all his properties, the Supreme Court had upheld the District Court verdict against him.