Dalmatian mascot stolen from Florida dog groomer
October 31, 2017 | 9:14 pm&nbsp&nbsp&nbsp&nbsp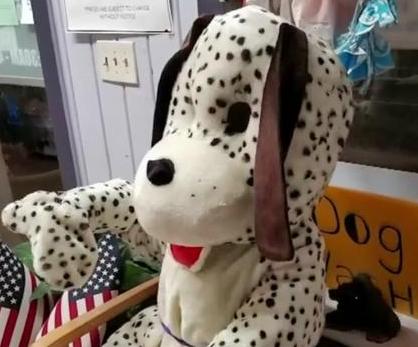 Oct. 30: A Florida dog groomer's security cameras were rolling when a pair of men rolled up and stole the business' mascot — a mannequin in a dalmatian suit.
Priscilla Brunjes, owner of All Creatures Pet Grooming in Orlando, posted a video to Facebook showing what happened when employees were busy opening the store and not keeping a close eye on Dot, the mannequin wearing a dalmatian mascot suit on a chair outside the shop.
The video shows the men loading Dot into a pickup truck and coming back moments after to retrieve the mascot's head, which fell from the body in transit.
Brunjes said her children, and a succession of local kids looking for extra money, wore the costume outside the store for nearly two decades, until it started to come apart at the seams and she decided to retire it to a mannequin placed on a chair outside the store.
"I laughed because of how it looked," Brunjes told WKMG-TV. "Who does that? Who takes the dog? Who takes the whole chair? They took everything."
"She has been our mascot for 17 years. We would like her back," Brunjes said. "We don't want the chair. If the mannequin isn't there, that's fine too. We just want the costume back on the head. That would be really nice." Upi.com