Nepali children's book receives international honour
October 31, 2017 | 9:44 pm&nbsp&nbsp&nbsp&nbsp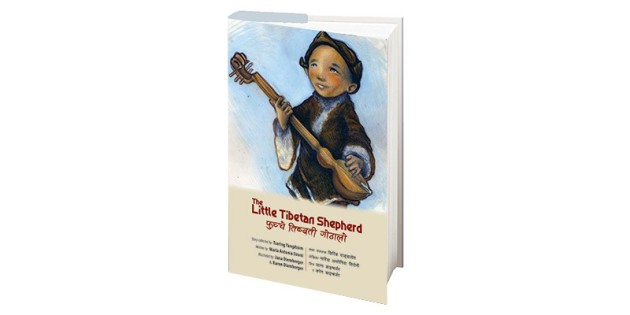 Kathmandu / Oct 30: The Little Tibetan Shephard (Phuchche Tibbati Gothalo), a Nepali children's book, has been listed among the 2017 White Raven catalogue of children's books, by The International Youth Library in Munich. The book was enlisted alongside 200 titles from 56 countries.
Based on a traditional Tibetan folktale, the book is bilingual, with text in Nepali and English. Its story is told through 15 pages of large-print text and 13 illustrations. A previous edition of the book has been published in Italian.
The book tells the story of Sonam, a shepherd-boy who receives a magical tamyen (Tibetan stringed instrument) one day from a mysterious old man. When strummed, the tamyen enables Sonam to communicate with animals. But his new-found powers lead him into trouble. He is kicked out of his home and sets off on wandering adventures that eventually climax at the royal court in Lhasa. Along the way, he learns important lessons about compassion and his own place in the world. At its heart, the story's talks about the power of music and the importance of listening. It is through music—which is recognised across the world for its ability to bring people together—that young Sonam gains his power. As he listens to animals talk, he realises that they have hopes and fears much like we humans do, and he empathises with them. In the end, he is given the choice to lead a life of luxury or to continue on his itinerant path. He chooses the latter, recognising that he is happier being a traveller, listening and learning from others.
The book is a collaboration across three countries. The traditional folktale was collected by Tsering Yangdzom, a teacher of Tibetan Literature at Lhasa University, and was written by Italian author Maria Antonia Sironi, a retired Italian schoolteacher with long-term connections to Nepal. The book is illustrated by Karen Diemberger, an architect, and Jana Diemberger, a professional illustrator.
The Little Tibetan Shephard was published in Kathmandu by Vajra Books. Source: The Kathmandu Post