EC Starts Voter education from today; Election Commission calls for foolproof guarantee of peace and security
November 11, 2017 | 8:41 pm&nbsp&nbsp&nbsp&nbsp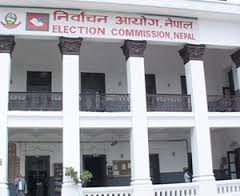 Kathmandu / Nov 11: The Election Commission (EC) has started conducting voter education workshop from Saturday as the first phase election of the House of Representative and provincial assembly has been left only 15 days.
Voter Education Program has been started to instruct the way to delegate the votes in the provincial assembly elections and House of Representative.
About 20 thousand employees are deployed for the voter education campaign. EC spokesperson Navaraj Dhakal told the deployed officials will actively teach the way of voting in the correct way.
The voter education program has started too late after the Supreme Court (SC) had directed the EC to separate the ballot papers on the right side of the state assembly. Earlier, the EC had started printed single ballot papers. After the order of the SC, the EC has delayed sending the ballot papers to the district.
The first phase of the House of Representative and provincial assembly elections are scheduled on November 26 in 37 constituencies of 32 districts and e second phase of election is set on December 7.
Election Commission calls for foolproof guarantee of peace and security
Meanwhile, Chief Election Commissioner Dr. Ayodhee Prasad Yadav has urged the government to fully guarantee peace and security by preventing any kinds of anti-election activities.
Speaking in the face-to-face program organized by Reporters Club Nepal here on Saturday, he said, 'the attacks targeting the election candidates are regrettable. We are serious after the incidents that took place on Friday and Saturday (today).'
Chief election commissioner Dr. Yadav was referring to the attacks on the vehicles carrying election candidates in Rukum and Rolpa districts.
'Let there be no such incidents anywhere and let such incidents not repeat,' CEC Yadav said, cautioning the Ministry of Home Affairs. He also appealed to all not to have any doubts regarding whether or not the elections will take place.
Emphasizing that all the voters should be able to take part in the elections without any fear, he said a meeting of the high-level security mechanism has been called for tomorrow (Sunday) to make an assessment of the security situation.
According to him, all necessary preparations for the first phase election taking place on November 26 have been completed while the ballot papers for 15 districts have been printed for the second phase election.
The Chief Election Commissioner also urged the journalists to disseminate true, factual and balanced news for the stability of democracy. He urged the media to fully abide by the election code of conduct. RSS