Leaders forget promises once they win elections
December 1, 2017 | 9:38 pm&nbsp&nbsp&nbsp&nbsp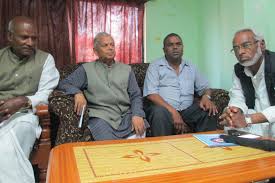 Jhapa / Dec 1: When monsoon arrives, hearts of people in settlements nearby the Ratuwa River in Jhapa start pounding. They become panicked. Rains give them sleepless nights.
This problem is not new, but the one which the people here have been going through since years. The river which is quieter these days turns violent in the rainy season, enters the human settlements and drives the people away from their home.
People residing in the settlements nearby the river wish to see the construction of an embankment to it. They are disappointed to see political parties and leaders raising their issue just as an election agenda, but never living up to their promises to do something to control the river that displaces a large score of people every year.
They feel more pain as they come to realize that political leaders whom they send to Kathmandu so far with the expectations they (leaders) would do something in respect to their ballots to address their problem just played with their sentiments and cheated on them. Their high sounding words heard in every election campaign were just for garnering votes.
"It has been over a decade since one popular face in the national politics promised to take measures to control the flooding from the river, but he never realized the need to live up to his promise," 46-year-old Anil Rasaili, of Kamal Rural Municipality who runs a shop near a highway, was expressing his grudges. "Our problem is as it is."
The people here are fed up with all political parties and their leaders. The unemployment problem is high prevalence in the settlements, pushing some youths to drugs abuse. Political leaders just give them false assurances, they never think it necessary to take initiations to establish industry and create employment opportunities for them.
Saraswoti Giri supporting Rasaili's statement said, "Leaders never talk about the small thing. They talk about the development of the nation, but forget their roots after the election."
Giri has complained over journalists as well. She expressed her discontent over journalists failing to expose their issues to public/media. People of villages that lie to the north of the East-West Highway in Jhapa are living with a pile of problems, but none is there to hear to them and realize their situation.
Raj Kumar Halawai, who runs a tea shop in this rural municipality views that Jhapa would probably in the forefront in terms of development provided development lying a foundation is considered to be developed.
They are surprised to see and hear tactics of leaders of left and democratic alliances to woo the voters. The leaders who are frequently seen in their localities with 'false' promises of better life for them before and during the election, oversee their issues once the election is over, this is what people feel here. People here who do not any know political ism and are engaged in politics are gripped by day to day problems.
Senior citizen Bed Kumari Ghimire of Chandragadhi, Jhapa shares that this time she has decided to vote for a leader who is literally committed to addressing her problem she has been facing every day for many years.
"A flock of wild elephant passes through my house yard early in the morning. I cannot go down to the ground floor before 6:00 am, sometimes; I have to cry for help. They sound the siren to chase wild animals away. But our leaders never talk about such problem we are facing every day."
Ramji Dahal of Birtamod sharing about problems of his town said, "Condition of roadways is very poor. Roads which are being used by big political leaders for election publicity campaign are badly damaged. It may not be a real problem for visitors (like political leaders) but is a major issue for the locals.
Likewise, inundation is another problem of the people of Birtamod. Not only geographical location (low land) is responsible for this problem, but haphazard land plotting done by land mafia has fueled the problem. Flooding from the Biring, Aduwa, Kankaimai and Ninda Rivers displace many people here, rendering them homeless.
Youth leader Bishwa Prakash Sharma, Krishna Prasad Sitaula, CPN (UML) chair and former prime minister KP Sharma Oli, CPN (Maoist Center) leader Ram Karki, RPP leader Rajendra Lingden are in the election fray for the federal parliament from the district, but we have to wait to see how they will address issues/problems of people. The second phase of the election to the House of Representatives and State Assemblies is taking place in the district on December 7 as of the remaining 44 districts. RSS