Silence period for phase II poll commencing tonight;  Border points to close tonight
December 4, 2017 | 10:33 pm&nbsp&nbsp&nbsp&nbsp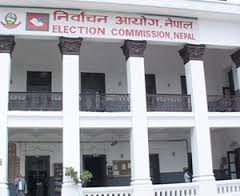 Kathmandu / Dec 4: The silence period for the second phase of the elections to the House of Representatives and State Assemblies is commencing from the midnight today, the Election Commission (EC) said. The twin elections are taking place in 45 districts on December 7.
Election publicity campaign or soliciting voters shall not be allowed once the silence period begins, according to EC spokesperson Nawaraj Dhakal. All sorts of election publicity campaign have been prohibited in this special period. No political party, election candidate, civil society and voter shall be allowed to get involved in the election publicity campaign.
Likewise, mass media are not allowed to publish and air any material in favour or against any political party or candidate, conduct a poll survey and publish its findings.
The EC has urged one and all to abide by the code of conduct to be followed during the silence period.
Likewise, in this time given for voters to decide to whom they vote for, no votes shall be solicited and election campaign shall be conducted through social network with the use of electronic means such as SMS, facebook, twitter and viber.
Symbolic materials such as clothes, cap, sticker, logo bag and tattoos that contain the election symbol of any candidate or political party shall not be allowed or cause to be allowed to use, sell or display in this period which requires the removal of respective election symbols and election campaign materials placed within the periphery of 300 meters of the polling centers before it comes into force.
However, there is no restriction to publish and disseminate voter education materials, information or message issued by the EC in this period. RSS
Border points to close tonight
Meanwhile, the transit point with India in Banke district will be closed from today midnight in view of the December 7 election to the House of Representatives and State Assemblies.
All the entry points in the district bordering India will be closed until December 7 as per an agreement reached between the border security officials of the two countries, according to Chief District Officer Ramesh Kumar KC.
Accordingly, plying of vehicles as well as pedestrians will remain closed from all small and big transit points that fall in the 65 kilometer area from Radhapur to Suiya Baghauda in the district. RSS