President Bhandari lays foundation stone for OAG building
December 4, 2017 | 10:32 pm&nbsp&nbsp&nbsp&nbsp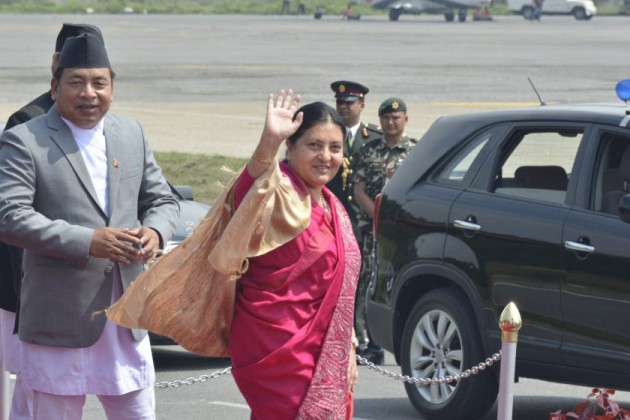 Kathmandu / Dec 4 : President Bidya Devi Bhandari has laid the foundation stone for a new building of the Office of Auditor General (OAG) amidst a ceremony in Anamnagar today.
The office's old building was damaged beyond repair in the 2015 April earthquake, and the office has been operating from a building in Babarmahal ever since. The new building is going to be constructed at the earlier place in Anamnagar.
The seven-storey well-equipped building with two underground floors will be constructed on seven ropanis of land and is expected to be completed by the next three years.
The construction of the structure that is estimated to cost Rs 543 million will be monitored by the Department of Urban Development and Building Construction and incentive has been announced for the contractors if the construction gets competed before the deadline.
Nepali original architectural style will be adopted for the project. Besides, the building will be disabled-friendly and earthquake resilient, the office said.
On the occasion, President Bhandari suggested that the Office of Auditor General must pay its attention to making it responsible, and maintaining its discipline, and transparency.
Stressing the need for addressing the problem of budget freeze, and ending increasing arrears, she urged the office to implement the set criteria.
All should focus on making economic transactions by those organisations receiving government subsidy, and non-government organisations effective, and updated.
Likewise on the occasion, Auditor General Tanka Mani Sharma Dangal said the arrears of public sectors have reached Rs 4 billion so far. RSS