All logistics reached to respective polling stations: Commission; Assistant polling officer dies of heart attack in Kailali
December 5, 2017 | 9:17 pm&nbsp&nbsp&nbsp&nbsp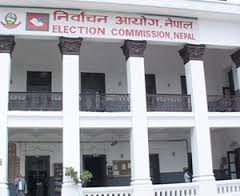 Kathmandu / Dec 5: All logistics required for management of the second phase of the election to the House of Representatives and Provincial Assemblies have been reached to the polling centers.
Likewise, all essential arrangement including security measures have been completed for the December 7 election taking place in 15,344 polling stations in 45 districts of the country, according to Election Commission Spokesperson Nawaraj Dhakal.
A total of 155,000 employees have been mobilized for the election and began their work by distributing voter identity cards from today. The 67 kinds of logistics including ballot paper, ballot box among others have reached the polling stations.
Likewise, the voter education volunteers started working from the polling stations apprising the voters coming to receive their voter ID card about the type of ballot papers and the right way to vote.
Voting on Thursday is taking place from 7:00 am to 5:00 pm for 128 constituencies to the House of Representatives and for 256 seats of the State Assemblies.
Assistant polling officer dies of heart attack in Kailali
Meanwhile, assistant polling officer Yagya Lal Upadhyay stationed at the Kalika Primary School's polling center (B) in Kailali constituency-4 died of cardiac arrest.
Upadhyay suffered a heart attack while he was buying goods at the local Masuriya market Monday.
He all of a sudden collapsed in the market and breathed his last on the way to the Seti Zonal Hospital, Dhangadhi, according to District Police Office, Kailali's spokesperson Bir Bahadur Budha Magar.
He, permanent resident of Bajura, was the first class non-gazetted (nayab subba) at the District Administration Office Kailali. RSS