EC puts preliminary voter turnout of second phase polls at 67pc; Vote counting of first phase elections begins
December 7, 2017 | 9:07 pm&nbsp&nbsp&nbsp&nbsp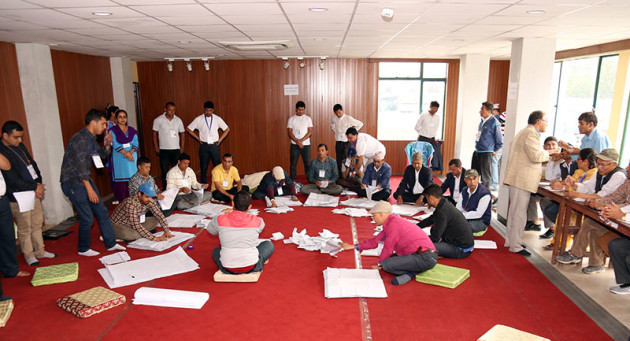 Kathmandu / Dec 7: The Election Commission (EC) has put the preliminary voter turnout at 67 per cent in the second phase of parliamentary and provincial election held in 45 districts on Thursday.
The election in 45 districts voted to elect 128 House of Representatives and 256 Provincial Assembly members.
According to the election body, Gulmi district recorded the highest 71 per cent voter turnout.
The election that began from 7 am was scheduled to officially end at 5 pm. It is, however, learnt that the voting was alloed to continue in the places where voters reached the voting centers and queued up for their turn.
First phase elections were held in 32 districts on November 26.
The completion of the second phase of elections will make way for a federal parliament at the centre and provincial assemblies in seven provinces as envisioned by the new constitution adopted in 2015.
According to EC, a total of 5,293 candidates are competing under the first-past-the-post (FPTP) system while as many as 6,094 candidates are contesting under the proportional (PR) category.
A total of 495 seats –165 for federal parliament and 330 for provincial assemblies are up for grabs.
Vote counting of first phase elections begins
Meanwhile, vote counting has started in the 32 districts where the elections were held in the first phase of federal parliament and provincial assembly elections. The first phase of the elections was held on November 26 in 32 districts.
The counting began in most of the districts after 5pm following all party meetings.
The first phase of elections will elect 37 members in federal parliament and 74 members in provincial assembly from 32 districts.
There are 330 provincial constituencies in all seven provinces. The elections were held under both frist-past-the-post (FPTP) and proportional representation (PR) systems. The election was held for 110 federal seats under PR category and 220 provincial seats under PR category.