Left alliance leads in two-third constituencies
December 8, 2017 | 8:29 pm&nbsp&nbsp&nbsp&nbsp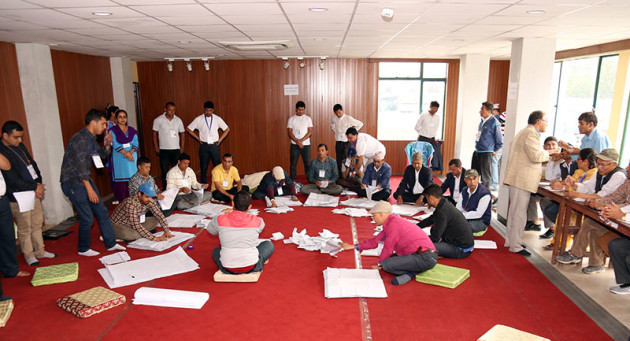 Kathmandu / Dec 8: As vote counting of first phase of election reaches in mid-way, left alliance is leading in two-third constituencies. First phase election was held in 32 districts for 37 seats in House of Representatives.
Out of them, left alliance is in lead in 29 constituencies and Nepali Congress in only four constituencies and Naya Shakti Nepal party is taking lead in one constituency. Out of 32 districts where first phase of election took place, Nepali Congress is taking lead in four districts–Rasuwa, Bajura, Humla and Sankhuwasaba.
UML has won two seats to Maoist one. In Gorkha-2, there is tight competition between left alliance candidate Narayan Kaji Shrestha and Naya Shakti Nepal candidate Baburam Bhattarai. Bhattarai has secured 6534 and Shrestha 5399.
In Sindhupalchowk-1, left candidate Agni Sapkota has build a wide margin over Nepali Congress candidate Mohan Basnet.
Sapkota has secured 11195 votes and Basnet following him with 6982 votes. In Sindhupalchowk-2, there is a tight competition between left candidate Sher Bahadur Tamang and Rastriya Prajatantra Party (Democratic) candidate Pashupati Shumsher Rana. Tamang has secured 9200 and Rana 8009. Nepali Congress has supported Rana. Left alliance is leading in both constituencies of Nuwakot from where NC veterans Ram Sharan Mahat and Arjun Nara Singh KC are winning.
Till 3 PM, UML has won four seats of House of Representatives, Maoist one seat under the same category. In the provincial assembly, the results of seven constituencies are out. Out of seven, UML won four seats, Maoist in two and one independent.