Election overview: CPN-UML victorious in 24 constituencies, leading in 56; EC commences counting of PR votes
December 9, 2017 | 8:25 pm&nbsp&nbsp&nbsp&nbsp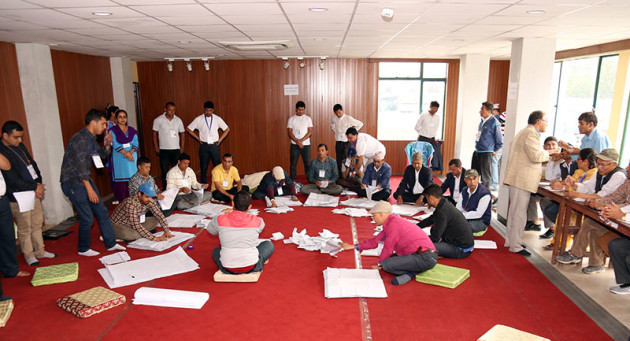 Kathmandu / Dec 9: The CPN-UML, has emerged victorious in 24 federal constituencies and is leading in 56 constituencies so far. The party has won the election in 27 provincial constituencies and is leading in 93 provincial constituencies.
Similarly, the CPN (Maoist Centre) has won in 11 federal constituencies and is leading in 23 federal constituencies. The party has emerged victorious in 11 provincial constituencies and is leading in 45 constituencies.
Likewise, the Nepali Congress (NC) has won in five federal constituencies and is leading in 20 constituencies. The party has been elected in five federal constituencies and is leading in 35 constituencies.
Winner of HoR from UML
Province-1
Yogesh Bhattarai from Taplejung -29479
Basanta Kumar Nemwang from Panchthar -38641
YAgya Raj Sunuwar from Okhaldhunga -32580
Ghyanshyam Khatiwada from Morang-1 -37524
Bhanubhakta Dhakalfrom Morang-3 -42413
Lalbabu Pandit from Morang-6 -33941
Province-3
Prabhat Gurung from Dolakha-1 -55954
Bhim Prasad Tripathi from Dhading-1 -49121
Khem Prasad Lohani from Dhading-2 -36253
Sher Bahadur Tamang from Sindhupalchowk-2 -38401
Krishna Bahadur Rai from Kathmandu-3 -19169
Jeevan Ram Shrestha from Kathmandu-8 -13397
Krishna Gopal Shrestha from Kathmandu-9 -22852
Krishna Lal Maharjan from Lalitpur-2 -27713
Province-4
Palden Chopang Gurung from Manang -2300
Prem Prasad Tulachan from Mustang -3544
Bhupendra Bahadur Thapa from Mygdi- 23308
Surya Prasad Pathak from Baglung – 33357
Province-6
Dhan Bahadur Buda from Dolpa -11761
Gopal Bahadur Bam from Mugu- 12460
Province-7
Lal Bahadur Thapa from Bajura- 28059
Bhairav Bahadur Singh from Bajhang -34597
Ganesh Sing Thagunna from Darchula -38998
Damodar Bhandari from Baitadi -39524
Maoist Center
Province-1
Hem Kumar Rai from Solukhumbu -20912
Aman Lal Modi from Morang-4 -33529
Province-3
Agni Prasad Sapkota from Sindhupalchowk-1 -40504
Pampha Bhusal from Lalitpur-3 -24036
Province-4
Devendra Poudel from Baglung-2 -20827
Province-5
Kamala Roka from Rukum-East -10434
Province-6
Gajendra Bahadur Mahat from Jumla -22173
Durga Bahadur Rawat from Kalikot -21111
Shakti Bahadur Basnet from Jajarkot -32281
Janardhan Sharma West-Rukum -34402
Nepali Congress
Province-1
Minendra Rijal from Morang-2 -28768
Province-3
Mohan Acharya from Rasuwa -14453
Prakash Man Singh from Kathmandu-1 -10937
Gagan Kumar Thapa from Kathamndu-4 -21558
Rajendra Kumar Kc from Kathmandu-10 -241190
Independent
Chhaka Bahadur Lama from Humla -8491
EC commences counting of PR votes
Meanwhile, vote counting under Proportional Representation (PR) category has begun in those districts where final results of First-Past-the-Post category are already out, according to Election Commission.
EC plans to complete the counting of PR votes within next 7-10 days. As per the preliminary result, Nepali Congress is leading with 5163 votes. CPN-UML is in the second position with 4613, while CPN (Maoist Centre) is in the third position with 1400.
Under the PR category, more than 50 percent parties are contesting election. To gain the status of national party, parties will have to secure one seat under FPTP and 3 percent votes under PR category.
Big three top brass leading in respective constituencies
Similarly, CPN-UML Chairman KP Sharma Oli is leading in Jhapa constituency-5 with 22,090 votes, while his closest contender Khagendra Adhikari of Nepali Congress (NC) has been trailing with 9,786 votes s until 4 pm on Saturday.
Similarly, CPN (Maoist Centre) Chairman Pushpa Kamal Dahal has mustered 5,256 votes and is leading in Chitwan Constituency-3. His closest contender Bikram Pandey of CPN-UML has garnered 3,159 votes so far.
Likewise, Nepali Congress President Sher Bahadur Deuba is leading in Dadeldhura constituency-1 with a comfortable margin. He has secured 14,724 votes while his contender Khagraj Bhatta of CPN (Maoist Centre) has acquired 8,862 votes until this evening.
Meanwhile, Sanghiya Samajbadi Forum Nepal Chairman Upendra Yadav has emerged victorious in Saptari-2. He has secured 21620 votes, while his closest conteder Umesh Kumar Yadav of CPN (Maoist Centre) garnered 11,580 votes.