Vote counting under PR electoral system completed in 60 districts; Election a milestone: President Bhandari
December 14, 2017 | 9:35 pm&nbsp&nbsp&nbsp&nbsp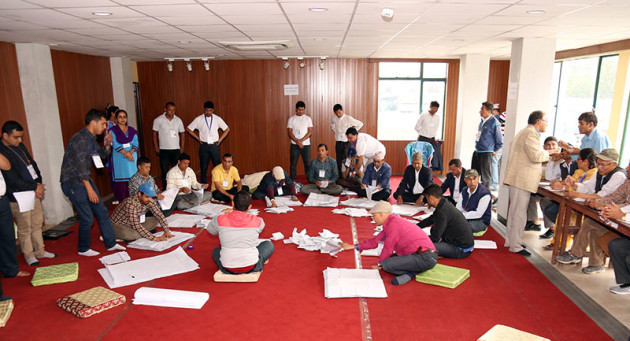 Kathmandu / Dec 14: The counting of votes under the Proportional Representation (PR) electoral system to the House of Representatives and State Assemblies held on November 26 and December 7, for 60 districts has now been completed.
Spokesperson of the Election Commission Nawaraj Dhakal was quoted in the Rastriya Samachar Samiti as saying, "CPN-UML has so far secured 2,631,991 votes followed by Nepali Congress with 2,546,069, CPN Maoist Centre with 1,045,446, Federal Socialist Forum Nepal with 351,525 and the Rastriya Janata Party Nepal with 295,448 votes."
A total of 7,684,328 votes have been counted till 10:00 am this morning.
Likewise, Rastriya Prajatantra Party garnered 175,590 votes while Bibeksheel Sajha mustered 173,797 and Naya Shakti Party has received 69,241 votes so far.
The counting of votes is underway in remaining 17 districts including Sunsari, Dhanusha, Saptari, Sarlahi, Mahottari, Kathmandu, Chitwan, Syangja, Arghakhanchi, Pyuthan, Surkhet, Kailali, Kanchanpur and Doti.
Election a milestone: President Bhandari
Meanwhile, Prime Minister Sher Bahadur Deuba met with President Bidya Devi Bhandari at her residence, Shitalniwas, on Thursday, and informed her of the recently held elections to the House of Representatives and provincial assembly, its result and the vote count.
On the occasion, the President stressed that the election was a milestone to implement constitution. She also thanked Nepal government, Election Commission, political parties, civil servants, Nepal Army, Nepal Police, National Investigation Department, and the voters for making the election successful, said Spokesperson at President's Office, Kul Prasad Chudal.
President Bhandari also believed that the elections would help ensure political stability. To realise the socio-economic transformation, all political parties should work together. RSS