Chair Oli urges PM Deuba to give way for new government; PM Deuba eager to hand over power; Dahal calls on President
December 16, 2017 | 7:42 pm&nbsp&nbsp&nbsp&nbsp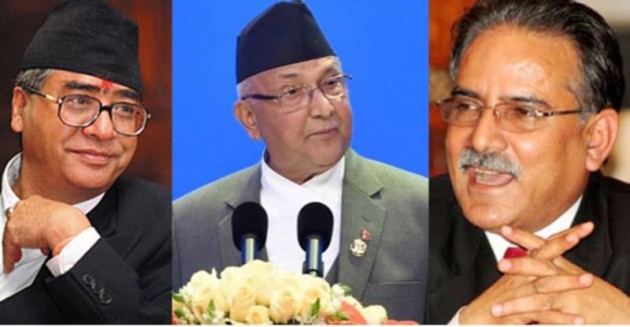 Bhaktapur / Dec 16: The CPN-UML chair and former Prime Minister KP Sharma Oli has urged Prime Minister Sher Bahadur Deuba to pave the way for formation of the new government.
Speaking with media persons at his residence at Balkot Saturday, chair Oli said that the Prime Minister should respect the recent public verdict and quit the government without any dilly-dallying.
On another note, chair Oli said that the incumbent government had forwarded the ordinance regarding the formation of national assembly which was against the constitutional provision. He added that the election commission should also take the initiative to ease the way to form a new government.
He also objected the government's exercise of appointing province chiefs.
Dahal calls on President
Meanwhile, CPN (Maoist Centre) Chairman Pushpa Kamal Dahal called on President Bidya Devi Bhandari at President's residence in Shital Niwas on Saturday.
The meeting focused on forming a new government and the National Assembly, and a consensus to be made among political parties in the context of the conclusion of the elections to the House of Representatives and State Assemblies, said President's Chief Secretary Bheshraj Adhikari.
The meeting was a part of ongoing President's efforts to hold discussions with leaders of major political parties on the latest political developments, he said.
PM Deuba eager to hand over power
Similarly, Prime Minister Sher Bahadur Deuba has said that he is eager to hand over power as soon as possible.
In a meeting with CPN Maoist Centre Chairman and former prime minister Pushpa Kamal Dahal at the Prime Minister's official residence in Baluwatar this morning, Deuba stressed the immediate endorsement of the bill relating to the National Assembly elections, currently at the Office of the President, according to Deuba's Coordinator Govinda Pariyar.
On the occasion, Deuba congratulated Dahal on the success achieved by the left alliance in the recent elections to the House of Representatives and State Assemblies.
In response, the CPN MC Chair Dahal urged Deuba to make political and constitutional appointments only on the basis of an agreement among the three major political parties.
Stating that the elections have given a new mandate, the CPN MC chair drew the attention of the Prime Minister against the political appointments including that of the State governors, press aide to Chairman, Dahal Manahari Timilsena said.
Dahal also urged PM Deuba to take the initiative to hold a discussion among the major parties for a way out on the issue of the National Assembly elections.