Committee formed to investigate Super Gas inferno; fire under control after eight hours
December 20, 2017 | 9:23 pm&nbsp&nbsp&nbsp&nbsp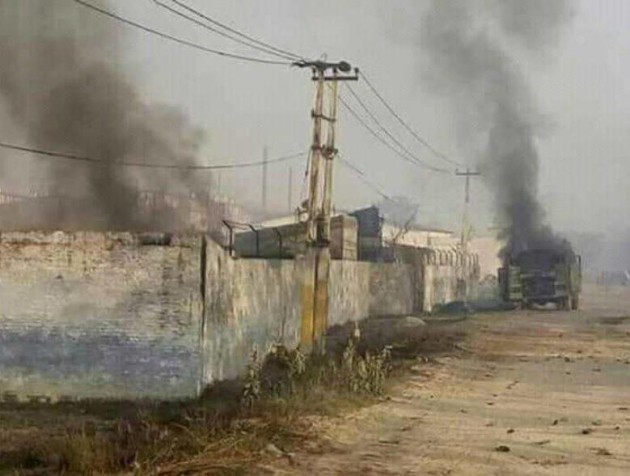 Kathmandu / Dec 20: The Association of LP Gas Industry has formed a five member probe committee to investigate the cause of fire at Super Gas Industry at Birgunj.
The fire, which started at 6:30 AM today morning, was brought under control after eight hours. Two firefighters lost their lives and another three were severely injured while dousing the fire.
The Committee, comprising of Shiva Ghimire (chairman of the Association), Kush Malli, Shankar Shrestha, Krishna Bhakta Shrestha and Laxmi Maharjan, has been assigned to submit its report within five days.
Fire came under control after eight hours of effort
The massive fire at Super Gas Udhyog Ltd in Birgunj Metropolis this morning has finally come under control after eight hours.
Two fire fighters were killed and three others were injured while trying to douse the fire.
Of the seriously injured, Sabin Nepal and Arun Kumar Mahato, officials at the Metropolis, have been taken to Kathmandu for treatment.
Nepal is undergoing treatment at the Kirtipur Hospital and Mahato is receiving treatment at the Trauma Centre. Likewise, another injured Ambika Patel is receiving treatment at a health care in Birgunj.
The fire was doused with the help of IT technicians from the gas factories in Bara and Parsa. They entered the incident site and used their expertise to prevent the explosion, informed police.
Likewise, fire engines were hired from Bara, Parsa, Rautahat and Raksaul of India.
Police had prohibited the locals from roaming around the area. The fire engines were also kept at one-kilometre distance, before the technicians carried out a test.
According to SP Ganesh Regmi, four gas bullets were kept in the premises of the factory. They had caught fire but the possibility of explosion has been prevented by the technicians. "The bullets are safe."
Properties including vehicles, equipment, machinery and building among others were completely destroyed in the fire. Details of the damage are yet to be known, said the Birgunj District Police Office.
The preliminary investigation shows that the fire occurred after a gas leakage while unloading the cylinders, added police.