NRA targets to complete construcion of 450,000 houses by this fiscal
December 21, 2017 | 9:30 pm&nbsp&nbsp&nbsp&nbsp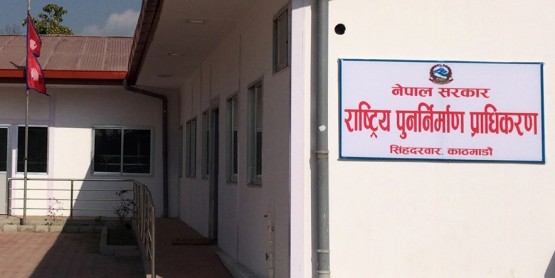 Kathmandu / Dec 21: National Reconstruction Authority (NRA) has targeted to complete construction of 450,000 houses by the end of the Fiscal Year 2017/18.
Speaking at a program entitled 'Impact of Post-Earthquake Reconstruction on the Economy' organized by South Asia Watch on Trade, Economics and Environment (SAWTEE) in Kathmandu on Wedesday, Yuba Raj Bhushal, CEO of NRA, said that the authority has targeted to complete construction of 450,000 houses by mid-July. "We will mobilize specialized personnel to expedite the construction process," he added.
At the program, prominent personalities of different held deliberations on the impacts of the earthquakes and the blockade on the economy.
This was the seventh discussion organized by SAWTEE under the project 'Initiating dialogue on Post Disaster Reconstruction Experience'. The project is supported by The Asia Foundation (TAF).
Speaking at the program, Yuba Raj Khatiwada, former vice chairman of National Planning Commission (NPC) said that efforts should be made to bring government grants rather than concessional loans so that the country does not fall under debt stress due to accumulation of debts.
Likewise Shankar Sharma, another former vice chairman of NPC, called for patience, saying that reconstruction activities cannot be conducted overnight.