Five major parties' Baluwatar meet inconclusive
December 23, 2017 | 11:04 am&nbsp&nbsp&nbsp&nbsp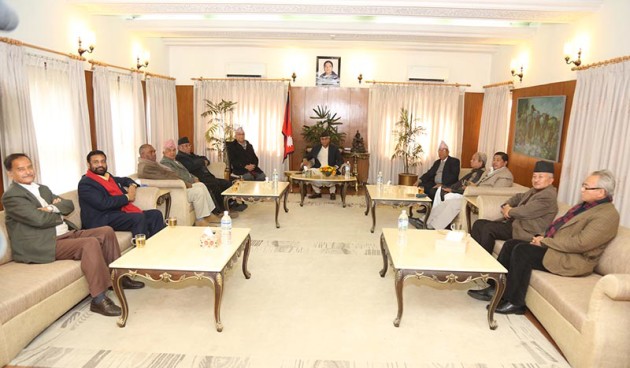 Kathmandu / Dec 22: A meeting of five major political parties called by Prime Minister Sher Bahadur Deuba at the PM's official residence in Baluwatar has ended sans agreement after the parties remained firm on their respective contradictory stands.
The leaders of Nepali Congress (NC), CPN-UML, CPN Maoist Centre (CPN MC), Rastriya Janata Party-Nepal (RJP-N) and Federal Socialist Forum-Nepal (FSF-N) had participated in the meeting.
The meeting slated to hold discussions on various matters, including ordinance related to National Assembly election, could not reach a solid conclusion since the major leaders did not budge from their earlier stances.
Present in the meeting were CPN-UML Chair KP Sharma Oli, CPN MC Chair Pushpa Kamal Dahal, Presidium Coordinator of the RJP-N Mahantha Thakur, and the FSF-N Chairman Upendra Yadav, among other leaders.
Talking to media-persons after the meeting, NC leader Bimalendra Nidhi said that UML chair KP Sharma Oli called the National Assembly Ordinance forwarded by the government an unconstitutional act, hence making way for consensus difficult. However, NC leaders defended the constitutional character of the ordinance and the party will work on its progression, said Nidhi.
Meanwhile, RJP-N leader Mahanta Thakur also stressed on the need to introduce the Single-transferable-vote-system (STV) for the formation of the National Assembly.
The process to endorse an act for formation of the National Assembly (NA) has been stalled because of lack of consensus among the political parties. Strife between the parties on choosing the electoral system has halted the endorsement of National Assembly election bill.