Provincial PR seat allocation to parties complete; UML stands first in seat allocation
December 23, 2017 | 11:04 am&nbsp&nbsp&nbsp&nbsp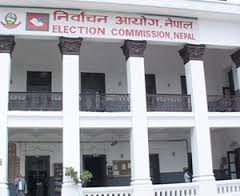 Kathmandu / Dec 22: The Election Commission on Friday unveiled the number of seats parties got in the provincial proportional representation elections.
A meeting of EC commissioners, presided over by Chief Election Commissioner Ayodhi Prasad
Yadav, held today decided to disclose the number of provincial PR seats allocated to the parties in proportion to the votes they got in the recent elections.
Out of 220 provincial PR seats, the CPN-UML won the most number of provincial PR seats — 75. The ruling Nepali Congress won 72 seats, the CPN-MC 35, the Federal Socialist Forum-Nepal 13 and the Rastriya Janata Party-Nepal won 12 seats.
The Rastriya Prajatantra Party and Bibeksheel Sajha Party won three seats each, Rastriya Janamorcha won two, while Naya Shakti Party-Nepal, Rastriya Prajatantra Party-Democratic, Nepal Workers and Peasants Party, Nepal Sanghiya Samajbadi Party and Sanghiya Loktantrik Rastriya Manch got one seat each.
EC Commissioner Narendra Dahal said the poll panel would provide copies of the result of provincial PR elections to the parties and ask them to submit names of winning candidates. The parties have to select names of the winning candidates from the list they submitted to the EC prior to the elections.
The EC said parties had submitted names of 3,565 provincial PR candidates prior to the elections.
Dahal said it would take several days to complete PR seat allocation for provincial elections.
He said the poll panel was doing its best to finish parliamentary seat allocation at the earliest.
He said the EC would publish the names of winning PR candidates of both provincial and parliamentary elections in the Nepal Gazette and submit the report to the president at the earliest. As per the law, the EC has to submit its report to the president within a week of receiving the final list of winning candidates.
The EC stated that the RPP and the Bibeksheel Sajha Party crossed the threshold of 1.5 per cent of the total votes polled in Province 4 but could not get any seat. The NWPP in Province 6 and RPP in Province 7 crossed threshold of 1.5 per cent of total valid votes but could not get any seat.
The EC stated that 21 political parties could not cross the threshold in Provinces 1, 23 in Province 2, 24 in Province 3, 13 in Province 4, 21 in Province 5, 13 in Province 6 and 15 in Province 7.
The EC said seven parties got seats in Province 3, six in provinces 1, 2 and 5, five in Province 4 and four in Province 6 and 7.