Political parties in Jumla bat for province capital in Karnali
December 23, 2017 | 6:18 pm&nbsp&nbsp&nbsp&nbsp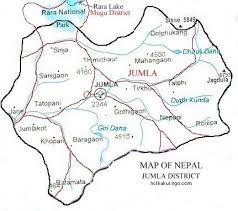 Jumla / Dec 23: The political parties in Jumla have drawn a conclusion to establish capital of Province No. 6 in the geography of Karnali area.
At an interaction program organized by Federation of Nepalis Journalist, Jumla and Civil Society, politicians reached a conclusion to make province capital in the Karnali region adding that the geography has its own identity and feasibility.
On the occasion, former lawmaker Devi Lal Thapa said Jumla is far better than Surkhet if identity and feasibility was taken into consideration. The government has proposed Surkhet as the province capital aiming to make the province capital even by using force. The folks of Karnali should be sensitive, he added.
UML leader Dhirendraraj Giri and Nepali Congress leader Devendra Shahi also said that there was no option but to unite all to pile pressure on government for naming capital of Province No. 7 in Karnali.
UML leaders Nandaram Rokaya, NC leaders Laxman Shahi, CPN (Maoist Centre) leader Bhawani Prasad Adhikari, Federal Socialist Forum Nepal leader Baliram Shahi and others also voiced for managing capital of Province No. 7 in the area of Karnali.