Rani Pokhari to be built as per DoA design
December 25, 2017 | 11:20 pm&nbsp&nbsp&nbsp&nbsp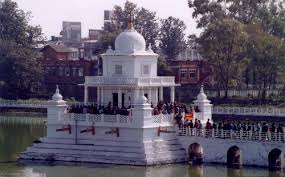 Kathmanddu / Dec 25: Mayor of the Kathmandu Metropolitan City, Bidhya Sundar Shakya, has said that reconstruction task of Ranipokhari has been forwarded as per the design approved by the Department of Archaeology.
Mayor Shakya expressed this view at a time when different types of rumour have been spread in recent period regarding reconstruction of Ranipokhari.
Shakya said, "Heritages are our common property. So don't create problem in reconstruction by raising unnecessary dispute."
He said that the bodies concerned have been already directed to complete construction tasks of Ranipokhari as soon as possible without destroying its archaeological structure.
Mayor Shakya said that the President had laid the foundation stone for the reconstruction of Ranipokhari at the consensus of Department of Archaeology, National Reconstruction Authority and KMC.
He said, 'I have asked to carry out reconstruction of Ranipokhari as per in per previous design after making slight changes in the design as it is the project before my election to the KMC mayor." The Gorkha earthquake had damaged Ranipokhari area. RSS