IBN, Chinese Cement Company sign PIA
December 27, 2017 | 9:18 pm&nbsp&nbsp&nbsp&nbsp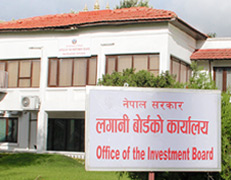 Kathmandu / Dec 27:Investment Board of Nepal (IBN) and Chinese company Huaxin Cement Narayan Pvt Ltd signed the project investment agreement (PIA) on Wednesday in Kathmandu.
Chief Executive Officer of IBN Maha Prasad Adhikari and Huaxin's Overseas Development Director Liu Jianguo signed the PIA, IBN's Spokesperson Uttam Bhakta Wagle said.
The IBN had decided to approve Rs 15 billion foreign direct investment (FDI) for the establishment of the company. Likewise, approval has been given to excavate limestone from Panikharka of Dhading district.
As per the agreement, Rs 30 million which is 0.2 percent of the total investment of the project would be received by the government of Nepal from the developer.
Likewise, the company paid Rs 600 million to the government of Nepal to extract the limestone.
After the agreement, CEO Adhikari said that PIA has delivered the environment of investment-friendly for FDI in Nepal. RSS