Call to register parties for NA member election; Parties to finalise Provincial Assembly representatives Friday
December 28, 2017 | 9:10 pm&nbsp&nbsp&nbsp&nbsp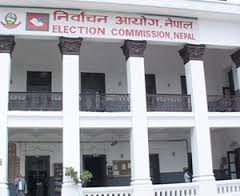 Kathmandu / Dec 28: The Election Commission has appealed to political parties to register themselves for the election of the member of the National Assembly.
The political parties registered at the Commission as per Article 269 of the Constitution are eligible to apply to take part in the election of the NA membership as per Article 271 of the Constitution and Clause 48 or 49 of the Political Party Act, 2073 B.S., according to EC spokesperson Dinesh Kumar Ghimire.
The election of the National Assembly as the lower house will give final shape to the federal parliament, with the election of the upper house or House of Representatives already held.
Parties to finalise Provincial Assembly representatives Friday
Meanwhile, the political parties are currently working on finalising the names of Provincial Assembly members for the seats received under proportional representation system.
Spokesperson at the Election Commission, Dinesh Kumar Ghimire said that the parties must finalise the names of lawmakers and present it at the Commission by Friday.
Thirteen parties that have crossed the minimum threshold required to send representatives to state assemblies must submit names of 220 lawmakers by office hour on Friday.
The Election Commission, on December 22, had allotted the political parties a week's time to submit the final list of lawmakers representing the parties in the State Assemblies.
NWPP, Bibeksheel Sajha among the first parties to pick lawmakers
Nepal Workers and Peasants Party (NWPP) and Bibeksheel Sajha Party today submitted the names of lawmakers representing the parties in Province Assembly, Commission Spokesperson Ghimire said. Both the parties have won seats in Province 3.
27-year old Srijana Saiju will represent NWPP at the provincial assembly whereas Bibeksheel Sajha Party has picked Ramesh Paudyal, Shova Shakya and Biraj Bhakta Shrestha as its provincial assembly members.
All the names have been sent to the EC on Thursday.