Prez approves National Assembly election ordinance; National Assembly elections soon: PM Deuba
December 29, 2017 | 11:22 pm&nbsp&nbsp&nbsp&nbsp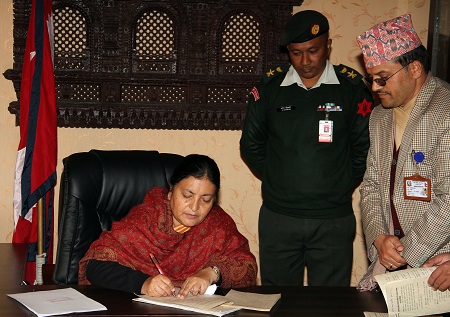 Kathmandu / Dec 29: President Bidya Devi Bhandari has approved the ordinance on National Assembly election forwarded by the cabinet two months ago.
President Bhandari today approved the ordinance which had been tabled in the President's Office, according to the President's Chief Secretary Bhesh Raj Adhikari.
President Bhandari had held consultations with Prime Minister Sher Bahadur Deuba prior to authenticating the ordinance. PM Deuba, who was engaged in Nepali Congress' central work execution committee's meeting at Baluwatar, had put the meeting on hold to conduct consultations with the President.
The ordinance had been delayed due to the differing positions of the ruling Nepali Congress and main opposition CPN-UML over the modality of electing the upper house.
With this authentication, the Upper House formation process will now be eased, also paving way for formation of House of Representatives and the new government.
National Assembly elections soon: PM Deuba
Meanwhile, Prime Minister Sher Bahadur Deuba has said the date to elect National Assembly members would be announced soon after consultation with the Election Commission.
During a meeting with the PM at his residence on Friday, the EC officials requested to announce the date of election for National Assembly election at the earliest. EC Spokesperson Dinesh Kumar Ghimire said that Chief Election Commissioner Ayodhee Prasad Yadav and other EC officials met the PM.
The PM was advised for immediate announcement of the election after the President authenticated the ordinance pertaining to the National Assembly election.
PM Deuba, on the occasion, thanked the EC officials for holding the recent elections successfully.