Give me Home Ministry and I will reduce crime by 50 per cent: Lal Babu Pandit
December 29, 2017 | 11:21 pm&nbsp&nbsp&nbsp&nbsp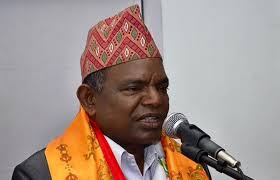 Bhaktapur / Dec 29: CPN (UML) leader and former Minister Lalbabu Pandit has claimed that he would reduce crime by 50 per cent were he to get the Home Ministry portfolio in the new government.
Speaking at the face-to-face programme organised at the Rafat Sanchar Club on Friday, Pandit said that he knew the way to reduce the crimes that take place in collusion between political and criminal elements, and any minister could minimize this sort of crime if he/she adopted the same tactic and strategy.
He stated that the country would take a big leap forward in terms of development in 10 years if every minister fulfilled his/her responsibility sincerely. The former Minister for General Administration also said that jobs could be created within the country for the hundreds of thousands of youth that are working abroad and Nepal could be transformed into a donor country in 20 years.
He said the province capitals would be decided by the Province Assemblies themselves in deference to the public aspirations, suggesting that however extensive discussions should be held before deciding the state capitals.
Leader Pandit said the left alliance would form a new government by January 21 after the unification of the two parties in the alliance and allocating the different party posts. He added that UML chairman KP Oli will lead the government. RSS