Maoist Center picks 35 for PR Provincial Assembly members
December 29, 2017 | 11:21 pm&nbsp&nbsp&nbsp&nbsp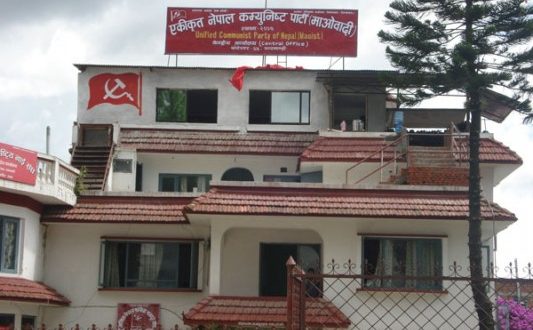 Kathmandu / Dec 29: CPN (Maoist Center) has recommended the names of 35 Maoist members to represent the party in the Provincial Assembly under the proportional representation (PR) category.
A central committee meeting of the Maoist Center held today decided to this end today.
According to the decision, the Maoist Center picked five members each from Province 1 and 2, eight form Province 3, three from Province 4, six from Province 5 and four each from Province 6 and 7 under the PR category.
According to a press statement issued by the secretariat of Maoist Center Chairman Pushpa Kamal Dahal, Sita Thebe, Kushum Kumari Shrestha, Saubhagya Rai, Saraswati Pokharel and Umita Bishwokarma have been recommended as lawmakers for Province 1 under PR category.
Similalry, Jagat Prasad Yadav, Mohammad Samir, Rubi Kumari Karna, Pramila Kumari Yadav and Fuliya Devi Sada have been recommended as lawmakers for Province 2. For Province 3, Dinesh Maharjan, Angdendi Lama, Om Ghalan, Himali Gole, Pratima Shrestha, Sita Adhikari, Bhawana Subedi and Kanchan Khan have been recommended.
Likewise, Gayatri Gurung, Madhu Adhikari, Dilmaya Roka Magar Gautam have been recommended PR members for Provincial Assembly 4. For Province 5, Gita Thapa, Dama Kumari Sharma, Parwati Pum, Gahatraj, Lauti Tharu, Dipa BK, Sushma Yadav have been picked.
According to the Maoist Center, Pushpa Gharti Bista, Sita Kumari Nepali, Bimala KC and Krishna Sah have been recommended for Province 6 while for Province 7 Nirmala Badal (Joshi), Kunti Joshi, Binita Chaudhary and Shanti Nepali have been elected as provincial lawmakers.
Maoist Center recommended only five males out of 35 PR seats to meet the mandatory constitutional provision to represent 33 percent women in the Provincial Assembly.
In the parliamentary and provincial elections held on November 26 and December 7, as many as 74 Maoist candidates had been elected lawmakers under the first-past-the-post system.