Probe against CJ Parajuli should be conducted, says Dr KC in his court statement; Dr KC admitted to Bir Hospital
January 9, 2018 | 8:23 pm&nbsp&nbsp&nbsp&nbsp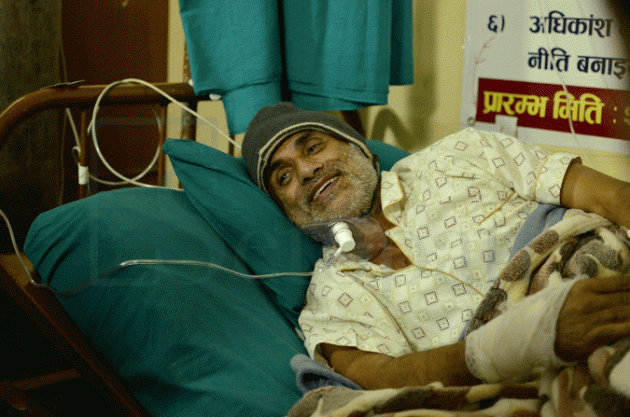 Kathmandu / Jan 9: Dr Govinda KC has said that a probe should be conducted against Chief Justice Gopal Parajuli.
While recording his statement on a contempt of court case filed against him at the Supreme Court (SC) on Tuesday, Dr KC said that investigations should be held against CJ Parajuli arguing that the chief justice had altered the details of his citizenship, and his School Leaving Certificate was missing among other issues.
The hearing on the case will be conducted on Wednesday. Till then, Dr KC will be kept under custody, it is learnt.
Dr KC was presented before the SC today as per the court order following his arrest on Monday from Tribhuvan University Teaching Hospital as he was staging his 14th hunger strike demanding the removal of CJ Parajuli.
As per the statement recorded by Dr KC, CJ Parajuli had lobbied and secured a job for his nephew at the Commission for the Investigation of Abuse of Authority (CIAA) as the commission's legal counselor following a SC decision in favour of the former CIAA chief commissioner Lokman Singh Karki.
Likewise, Dr KC accused the chief justice of delivering verdict against the government policy to plot the lands, giving decision in favour of institutions accused of tax evasion among others.
Meanwhile, a joint bench of SC justices Om Prakash Mishra and Kedar Chalise has begun hearing on the case from the defendant and plaintiff's side.
Dr KC admitted to Bir Hospital
Meanwhile, Police has admitted detained senior orthopedic surgeon Dr Govinda KC, at Bir Hospital.
Dr. KC, who had started a hunger strike, has a health problem, was taken into custody on Monday evening following the order from the Supreme Court. He admitted in general ward of the hospital.
Dr who was under strict security in the custody is now kept under normal security. According to his assistants, he is facing some health problem as well as stress.
The police have informed that they received an order from seniors to admit Dr KC in hospital.
Dr KC is still in fast-unto-death while being admitted to the hospital.
Meanwhile, KC's supporters will be protesting nationwide tomorrow after 1:00 PM, demanding the release of KC. They have also decided Slogan 'I am Dr. KC, arrest me too'.