EC makes public calendar for NA election; EC takes action on 83 of 114 code violation complaints
January 10, 2018 | 9:36 pm&nbsp&nbsp&nbsp&nbsp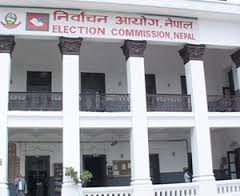 Kathmandu / Jan 10: The Election Commission has today published the calendar for the election of National Assembly members scheduled to be held on coming February 7.
Accordingly, the voters' list will be published on January 21 while filing of nominations shall take place on January 24, according to EC spokesperson Nawaraj Dhakal.
Likewise, the candidates will get their respective election symbol on January 29 while the voting on February 7 will take place from 10:00 am to 3:00 pm. The results of the voting will be made public by mid-February.
There are a total of 2,056 eligible voters for the NA elections, comprising the rural municipality chair and vice-chair, municipality mayor and deputy mayor and the provincial assembly members. The high courts in the districts have been designated as the polling centres while the district judge of Dhankuta, Dhanusha, Lalitpur, Kaski, Dang, Surkhet and Doti have been appointed the returning officers for the election.
The election shall elect 56 NA members eight each from the seven provinces and including at least three women and one dalit member. The 59-member National Assembly will have three members elected by the President on the recommendation of the Government.
The NA election is taking place as per the Single Transferable Voting System.
EC takes action on 83 of 114 code violation complaints
Meanwhile, the Election Commission (EC) has received a total of 114 complaints related to violation of the election code of conduct during the period of the House of Representatives and State Assembly elections.
Commission's spokesperson Nawaraj Dhakal said of these complaints, the EC cleared 81 complaints after studying into all the complaints while no action was required regarding the remaining 33 complaints.
The highest number of complaints was related to the use of vehicles in violation of the election code. Thirty-nine such complaints were filed with the EC, followed by 31 complaints related to the transfer and deputation of employees, 11 complaints related to conduction of examinations for appointing new employees or employees on contract basis in various bodies, five complaints related to the violation of the code by the employees mobilised on election works, five complaints concerning appointment of office-bearers in various bodies, and holding the town or village assemblies by the local bodies, and one complaint related to expansion of the Council of Ministers.
The election code of conduct was in force from August 30 to December 12, 2017 in view of the House of Representatives and State Assemblies elctions held in two phases on November 26 and December 7. RSS