21 parties register for upper house elections
January 13, 2018 | 9:09 pm&nbsp&nbsp&nbsp&nbsp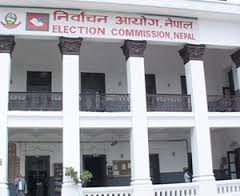 Kathmandu / Jan 13: Twenty-one political parties have applied at the Election Commission to contest the upcoming upper house elections. The election body had provided parties 15 days to register and the deadline expired Friday.
According EC Spokesperson Navaraj Dhakal, 21 parties have registered for upper house elections. They include Nepali Congress, CPN-UML, CPN (Maoist Center), Federal Socialist Forum Nepal, Nepal Workers and Peasants Party, Sanghiya Loktantrik Rastriya Manch, Nepal Sanghiya Samajwadi Party, Bahujan Shakti Party, Nepal Pariwar Dal, Rastriya Janamorcha, Nepal Naulo Janabadi Party, Rastriya Prajantantra Party (Prajatantarik), Bibeksheel Sajha Party, Naya Shakti Party Nepal, Nepal Dalit Party, Rastriya Janata Party Nepal, Rastriya Prajatantra Party, Bahujan Samaj Party Nepal, Gandhibadi Party Nepal, Nepali Janata Dal and Rastriya Mukti Andolan also registered at the EC for the elections.
The election will elect a 59-member upper house. Out of the total 59 members of the upper house, the elections will elect 56 members while the government itself will nominate the remaining three members.
Chiefs and deputy chiefs of 753 local units and members of the provincial assembly will elect the upper house through single transferable voting systems. So far, the election body has not officially announced the winners under the proportional representation (PR) category.
Also, members of the provincial assemblies elected under the first-past-the-post (FPTP) electoral system have not been sworn-in till date in the absence of governors.