Oranges worth 330 million produced in Salyan
January 20, 2018 | 10:04 pm&nbsp&nbsp&nbsp&nbsp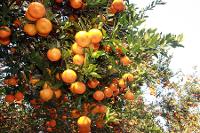 Kathmandu / Jan 20: Orange worth Rs. 330 million was produced in Salyan this year.
Thanks to favourable weather, production of the citric fruit increased by 10 per cent compared to the previous year, according to District Agriculture Development Office Salyan. The district earned Rs. 330.48 million in the sale of orange.
Orange had been cultivated in 1,020 hectares of area that led to production of 344 metric tons, said senior agriculture development officer Amar Raj Sharma. The increase in the area of Orange production is also leading to the rise in the total produce. Last year orange had been cultivated in 1008 hectares with an income worth Rs. 298.13 million.
Of the total produce, around 75 per cent is exported outside the district. And increasing market share is attracting more farmers into commercial Orange cultivation, Sharma said. Orange produced in Salyan are being sold in markets in Dang, Surkhet, Jajarkot, Nepalgunj, Dhangadi and Mahendranagar. RSS