Phulpati being observed today
October 5, 2019 | 9:11 pm&nbsp&nbsp&nbsp&nbsp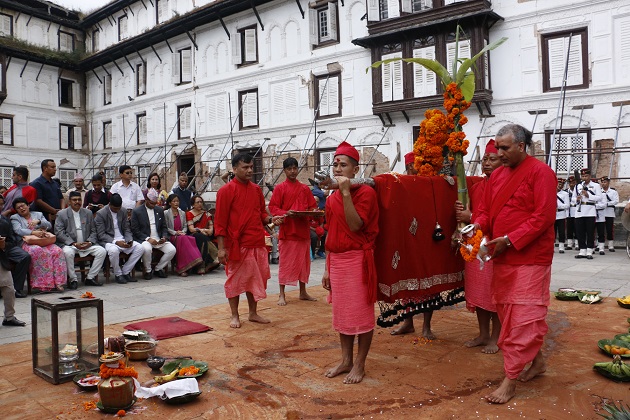 Kathmandu / Oct 5: Nepali people, mainly Hindus, are observing Phulpati, the seventh day of Dashain festival.
Fulpati, an assortment of flowers, leaves and fruits of different plants considered auspicious, is anointed at the Dashain Ghar on the seventh day of the Bada Dashain festival. Fulpati has been brought to Kathmandu as per the Vedic rites to be anointed at the Dashain Ghar at the Hanumandhoka Durbar in the capital.
The Gurujyuko Platoon, the Nepal Army, Nepal police, and high-ranking officials of Armed Police and civil service, the Asha Gurja team, band music, and panchebaja bands and decorated kalsyoulis, and a procession along with cultural pageantry leave Hanuman Dhoka for Jamal with the Fulpati.
Nepal Army is organizing a special parade at Tudikhel, in the heart of the capital, today. President Bidya Devi Bhandari and senior government officials are attending the special parade which includes gun firing.
The auspicious time for bringing Phulpati to Dashain Ghar was at 8:52 this morning. This year, Mahaastami and Mahanawami will be observed on October 6 and 7.
The main day of Bada Dashain, Vijaya Dashami will be observed on October 8. According to Nepal Panchanga Niranayak Samiti, the most auspicious time to receive Tika is at 10:35 am.