Betrayal in by-elections shall not be tolerated, says NC President Deuba
October 28, 2019 | 10:18 pm&nbsp&nbsp&nbsp&nbsp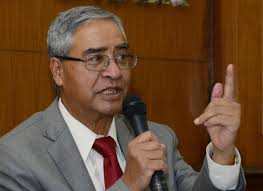 Bhaktapur / Oct 28: Nepali Congress President Sher Bahadur Deuba has said intra-party betrayal in the by-election would be intolerable and unforgivable.
Speaking at a reception organised by NC district working committee, Bhaktapur at Dudhpati today, he said betrayal like in the previous election would not be acceptable.
"There is no option than to arise above factions and become united in the party," he said. Describing the upcoming by-elections as a 'mini mandate', he urged party cadres in Bhaktapur to work to ensure that the mandate is towards the Nepali Congress.
Bhaktapur district chair of the party Durlav Thapa accused people's representatives in the district of working with land mafia to become rich, rather than working for the people. RSS