Pokhara-Muglin road to be expanded into four-lane
October 31, 2019 | 10:28 pm&nbsp&nbsp&nbsp&nbsp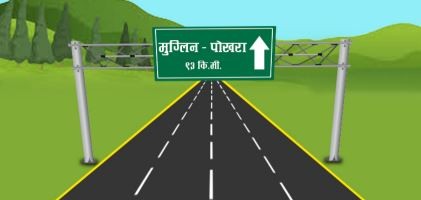 Kathmandu / Oct 31: The Pokhara-Muglin road is going to be expanded into four-lane. Asian Development Bank (ADB) is going to provide Rs 195 million loan assistance for the same.
The government is to invest Rs 5.90 billion to expand the two-lane Pokhara-Muglin road section into four-lane.
As per the recently issued press statement by ADB Headquarters, Manila, the ADB has approved the loan assistance as upgrading the Pokhara-Muglin road section was indispensable.
The ADB has believed that there would be easy and smooth movement of vehicles in the road section, which is a sub-regional corridor to link India and Bangladesh, as well as it would not only be easy to take local products to markets but would also decrease its supply cost, after its expansion into a four-lane road.
81-kilometer Pokhara-Aanbukhaireni road section would be expanded in the first-phase while eight-kilometer Aanbukhaireni-Muglin section would be expanded later.
ADB set the deadline of five years to complete the project. RSS