1.5 million tourists visit Lumbini in 2019
January 1, 2020 | 10:14 pm&nbsp&nbsp&nbsp&nbsp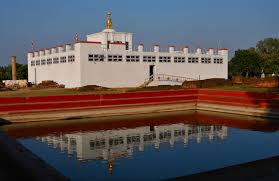 Bhairawa / Jan. 1: About 1.5 million tourists from India and the third countries visited Lumbini, the birthplace of the Buddha, in 2019.
However, the number of the tourists was less by 100,000 than the figure of the previous year. In 2018, about 1.6 million international and domestic tourists had visited Lumbini.
According to the information provided by the Lumbini Development Trust, among the total number of tourists visiting Lumbini, 169,900 were passport holders. The number is about 3,000 more than the previous year, said the Trust.
As many as 248,250 Indian tourists visited Lumbini in 2019, said information officer of the Trust Rajan Basnet. He said that 1,178,140 domestic tourists visited the holy place during the same period.
According to Basnet, tourists from 107 countries visited Lumbini last year, among them 59,959 were from Sri Lanka, 66,677 from Thailand, 25,333 from Myanmar, 18,460 from China, 7,193 from Vietnam, and 6,493 from North Korea.
According to the Trust, the data were collected according to the ticket system and the visitors' book. The data were taken only from those who visited Maya Devi Temple.
Nepali tourism entrepreneurs and travel agencies need to launch a tour package from many places to Lumbini to increase more visitors, said Saroj Bhattarai, member secretary of the Trust.
He said that the tour package was needed to increase tourist arrivals and extend their stay.
"There is a possibility of increasing the duration of stay in the coming days. Physical infrastructure is being constructed at the Gautam Buddha International Airport as well as other places in the Buddha Circuit, and this will attract more tourists in Lumbini in the coming days," Bhattarai said.