300 Chhaugoths demolished In three days
January 5, 2020 | 9:33 pm&nbsp&nbsp&nbsp&nbsp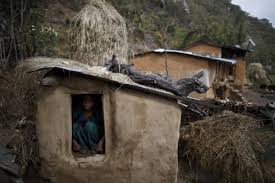 Surkhet / Jan 5: In the initiation of District Administration Office (DAO), Surkhet, 300 chhaugoths were destroyed in the district in the past three days. Chhaugoth is a separate, poorly ventilated, hut where menstruating women are made to stay for at least first five to seven days.
Following the government's direction to the local administration, the team led by Chief District Officer Basanta Adhikari demolished 300 such structures in three days.
The office has kept Panchapuri municipality, Barahatal rural municipality and Chaukune rural municipality in priority for the implementation of the campaign.
The traditional harmful custom locally known as Chhaupadi which banishes menstruating women and even new mothers from their homes to stay in isolation for certain days highly exists in these areas. The huts made for observing Chhaupadi are called Chhaugoths. Though these places which had been declared free from Chhaugoths, they were rebuilt again by the locals.
Practice of Chhaupadi was termed as criminal act in legislationi in 2017. However, it was illegalized as early as 2005.
There are some 1,800 Chhaugoths in Surkhet, according to CDO Adhikari.
Now, the demolition campaign is primarily focused at three local levels and it has the encouraging participation of local representatives and women leaders. A committee at the local level has been formed to support the campaign.
He warns that those observing Chhaupadi and making menstruating women to observe it will be punished. The office is preparing to warn those local shamans who are tempting the society to go with the ill practice. The Criminal Code has the provision of a three-month jail terms and a fine of Rs 3,000 against those responsible for the practice of Chhaupadi.RSS