Month-long Swasthani fasting begins
January 10, 2020 | 10:15 pm&nbsp&nbsp&nbsp&nbsp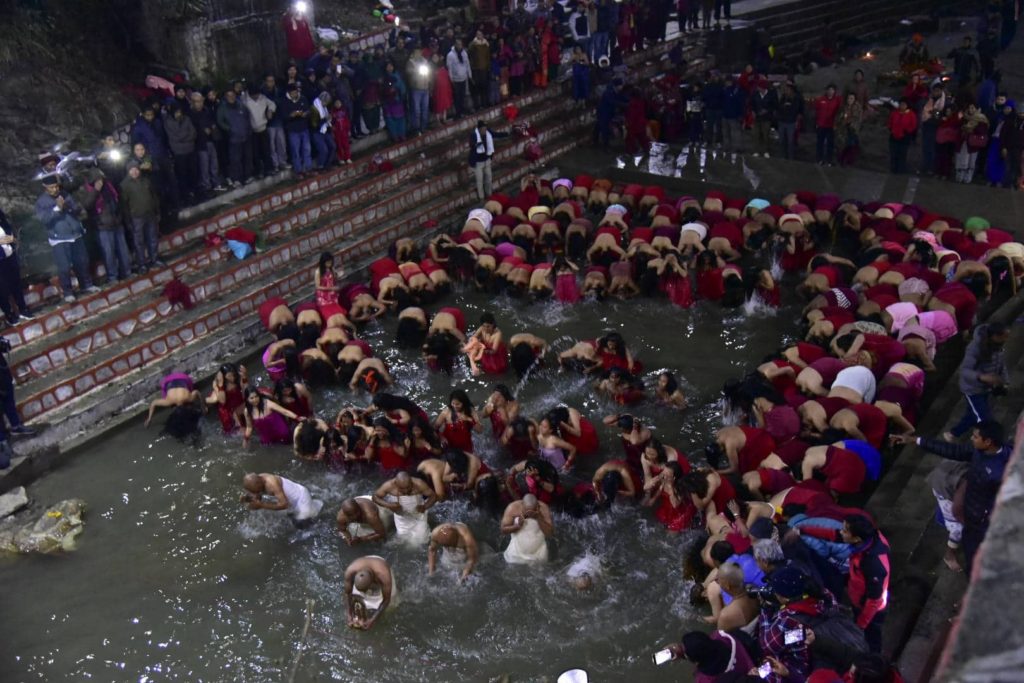 Kathmandu / Jan. 10: The one-month long Shree Swasthani fasting began on Friday, with the Hindus, particularly women, in different parts of the country worshipping goddess Swasthani and listening to a story about her in the evening for a month.
The month-long fasting also started at Sankhu, a town on the north-eastern part and some 20 kilometers away from Kathmandu city.
The devotees, both men and women, observe the fasting wishing for a prosperous life, perpetual luck and happiness of their families.
According to Laxmi Prasad Shrestha, president of Shree Madhavnarayan Swasthani Fasting and Salinadi Improvement Committe, this year a total 205 people registered their names for fasting. Among them 14 are men and 191 are women. The organisers expected that the number would increase in the next three days.
All devotees gather at the temple premises early in the morning and take holy bath in the Salinadi every morning for the whole month worshipping Madhav Narayan (Lord Vishnu) at mid-day, he informed.
Women devotees from today do not use any cosmetics and even shoes. They walk barefoot and take a single meal a day.
Both married and unmarried women worship Shiva and observe fasting, praying for fulfilment of their wishes for a happy and prosperous conjugal life. Unmarried women worship Shiva and Parvati in the hope of getting good groom.
All the devotees need to walk to various historical and other important shrines like Pashupatinath, Pharping, Panauti and Chagu Narayan barefoot on different days during their fasting.