Giving up teaching, A youth finds brighter days in farming
January 29, 2020 | 8:31 pm&nbsp&nbsp&nbsp&nbsp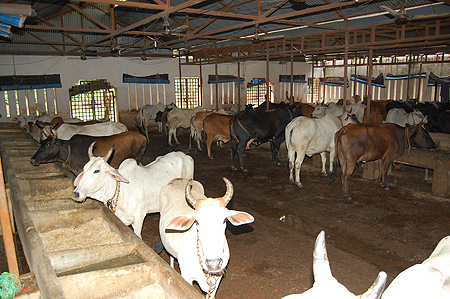 Belina Thapa / Lamjung: A local of Laxmi Bazaar, Madhya Nepal Municipality-7, Lamjung, Dibya Chandra Soti is busy looking after livestock these days.
Despite having a bachelors' degree certificate and a 10-year teaching experience, Soti runs Midimkhola Agriculture and Livestock Farm in his village.
"I was in teaching profession for 10 years. I was the principal of a boarding school. I even tried to fly abroad for employment," said Soti. "But my zeal to do something in my own land stopped me."
Soti owns 22 Holstein and Jersey cows, among which 15 are milk-producing, four are calves and remaining are in-calf cows.
There are four local buffaloes, including two calves in Soti's farm. Daily 80-100 liter of milk is produced in his farm.
Soti said that the milk is consumed in local markets from Damauli to Pokhara. A liter of milk costs Rs. 80, he said.
Soti has been in livestock and agriculture farming for over five years.
"Me along with three of my friends decided to open a farm while I was teaching in a private boarding school," Soti said. "For three years, I managed farming during my spare time but as my friends didn't give much priority to our business, I left teaching and started giving full time to livestock farming."
Soti said that he had expanded the farm and started farming vegetables, fish and livestock.
"I have been running unified agriculture farm by renting 60 Ropanis land for the tenure of 15 years," he said. "Half of the land is being used to grow fodder for cows and buffaloes such as Napier grass, Stylo, Mollases, maize and so forth."
Soti has constructed a pond in 10 Ropanis of the leased land for fish farming. He had farmed 20,000 fish like Common carp, Rohi and Mrigal naini fish from Bhandara, Chitwan.
Soti said that he had sold 3,000 kilograms of fish until now.
A fish grows to 1-1.5 kilograms in six months. He said that he had been selling one kilogram fish for Rs. 500 and had earnd Rs. 150,000 from fish farming itself.
The fishes were sold in Gyaneshwor and Bhorletar bazaar in Lamjung.
Vegetables like cauliflower, cabbage, bitter gourd and tomato are also produced in Soti's farm. He had been selling cabbages for Rs. 40 per kg and cauliflower for Rs. 80 per kg.
Soti earns Rs. 6,000 per day and Rs. 80, 000 per month by selling milk and Rs. 20-30,000 from fish and vegetable farming.
"I earn Rs. 100,000 profit per month," Soti said. He has invested Rs. 6 million in agriculture farming.
I started farming by taking loan from bank and acquaintances. Gandaki State had provided a grant of Rs. 1 million to Soti for establishing a model farm.
He has invested the profit earnt to expand the farm. Soti's father Bisnu Dutta, mother Rajyalakshmi and wife Pabitra Gautam have been helping him in agriculture farming.
He has employed five people by providing them Rs. 15,000 a month. Courtesy: The Rising Nepal