NCP CC meet concludes endorsing 11-point proposal
February 2, 2020 | 10:43 pm&nbsp&nbsp&nbsp&nbsp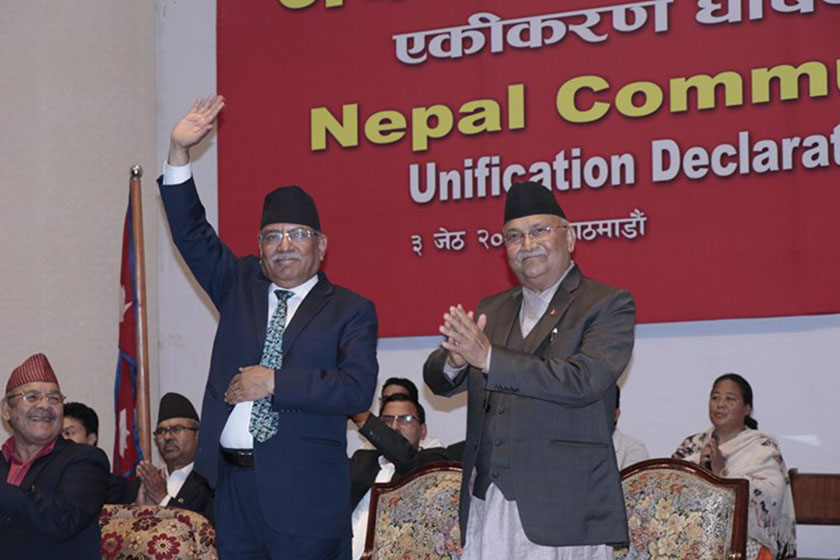 Kathmandu / Feb. 2: The central committee (CC) meeting of the ruling Nepal Communist Party (NCP) has been concluded endorsing an 11-point proposal on the current issues.
The second CC meeting of the NCP after its formation in May 2018 with the unity of the then CPN-UML and UCPN-Maoist ended on Sunday as the proposal read out by general secretary Bishnu Poudel to the CC members was passed unanimously.
Following the endorsement of the proposal presented by the general secretary, NCP chair KP Sharma Oli, also Prime Minister, had delivered concluding remarks in the meeting.
The CC meeting of the ruling party rejected the political map of India issued on November 2, 2019 saying that the map has included Nepal's territory such as Limpiya Dhura, Lipulekh and Kalapani area. The meeting urged the government to resolve the border dispute with India through diplomatic channels.
The CC meet has lauded China's efforts to control spread of the novel coronovirus while expressing hope that the norhtern neighbour will be successful in the battle against the virus.
The meeting has also called on the government to rescue Nepalis from Wuhan, the epicenter of the novel coronavirus, in Hubei province of China.
The meeting also expresed worry about the tense situation in the west Asia region and urged the government to take diplomatic measures to ensure safety and security of over a million migrant Nepali workers in the region in case any unwanted situation of conflict intensifies.
The five-day long meeting had started on January 29.