Energy Minister Pun pledges to advance Uttarganga hydropower project
February 4, 2020 | 5:52 am&nbsp&nbsp&nbsp&nbsp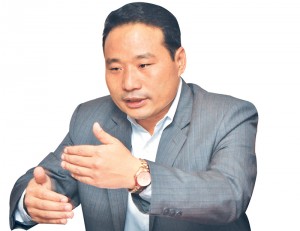 Baglung / Feb 3: Minister for Energy, Water Resources and Irrigation Barsha Man Pun today pledged to advance the Uttarganga reservoir-based hydropower project after addressing the demands of the affected local people.
He also sought help of the local people in pushing forward the project.
"Local people play a significant role in moving forward the project as it will benefit not only the local people but the whole country," he said while inspecting the project at Dhorpatan in the district.
Nepal Electricity Authority is carrying out a study on the 828 megawatts project. Likewise, Debendra Poudel, lawmaker from Baglung and member of the standing committee of Nepal Communist Party, urged the government to forward the project as soon as possible. "This project means to change the face of the whole country, but not only Baglung. We are ready to be cooperative for the same," he said.
The Uttarganga hydropower company, a NEA's auxiliary company, has initiated a process to select consultants to prepare a detailed project report of the project.
According to a preliminary study, at least 625 families will be displaced by the project. The project is expected to cost Rs 70 billion and the deadline is by 2083 BS. RSS