Minister Banskota asks teachers not to visit leaders for promotion and transfer
February 17, 2020 | 12:20 am&nbsp&nbsp&nbsp&nbsp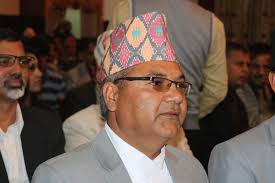 Kavrepalanchowk / Feb 16: Minister for Communications and Information Technology Gokul Prasad Banskota has urged the schoolteachers not to knock at the doors of politicians and people's representatives for getting promotion and transferred at their convenient schools.
Minister Banskota said so while addressing a programme organised on the occasion of 38th anniversary of Prabhat Basic School and inauguration of a six-room newly constructed building at Banepa Municipality-3 on Sunday.
He said, "Now time for adjustment of teachers has come. So, do not request leaders and people's representatives for transfer and promotion. Teachers should be there where the students are."
The Communications Minister also asked the people's representatives of the local levels not to heed any interest in transfer and promotion of the schoolteachers.
He argued that teachers should not launch agitations for their transfer at the convenient places.
Recalling that students in remote districts are having difficulties in their studies, Minister Banskota requested the teachers' associations and organisations not to make teachers concentrated in the cities.
Similarly, inaugurating the two-storied six-room building of ward office of Banepa municipality-3, he added that a law has been passed to recover the amount of contractors failing to complete the construction task within the given deadline.
The Communications Minister expressed the view that many works are still remaining to be fulfilled in order to materialize the government's dream of Prosperous Nepal, Happy Nepalis adding that the government's activities have been moving ahead in an expedited manner.
Furthermore, Minister Banskota also inaugurated a newly-constructed bridge at Nandimata river at Banepa-3 today itself. RSS