Government refutes goods shortage, warns of action against artificial price rise
March 9, 2020 | 9:30 pm&nbsp&nbsp&nbsp&nbsp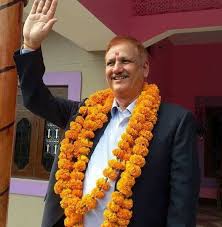 Ramesh Lamsal / Kathmandu: The government has denied there is shortage of daily consumer goods in the market and warned of maximum action against anyone found indulging in black-marketeering and hoarding.
Stating the government was working on a war-footing level to keep the market supply regular, it has made it clear that there is a pressure to meet the demand for sanitary mask and sanitiser only when the coronavirus has posed a global health threat.
The Minister for Commerce and Supplies, Lekhraj Bhatta said, "There is no issue in the supply of foodstuffs, cooking gas, salt, grains and edible oil. There is no situation of panicking anywhere."
The Minister today organised a meeting with journalists to brief about status of market stock following a growing public complaint that traders are charging iodized salt Rs 40 per packet against the market price of Rs 20, consumers are being forced to stay in long queue to pick up cooking gas cylinders and they are subjected to black-marketeering for foodstuffs. "It is time for supporting with each other and on the contrary, if suppliers are found making money through unethical practice, they may face time in jail, " he warned.
In case of Kathmandu Valley, there is an immense pressure for meeting the demand for Nepal Gas cooking cylinders and the Nepal Oil Corporation (NOC) has directed around a double supply than its demand, but consumers are believed to have been keeping extra stock bearing in mind of a possible crisis and refilling has been hampered due to the short supply of empty cylinders in the market. The Nepal Oil Cooperation has exceeded the import volume to cope up with the situation.
The NOC is supplying cooking gas even in Holi period. The NOC has further urged all not to store more cylinders than required as it could be risky to store more cylinders at home. The corporation has been supplying 44,000 cylinders daily in the capital as only 30,000 cylinders used to be supplied daily in the Valley before this. Minister further committed not to let occur any kind of shortage in the market.
Dial 1137 if anyone found indulging in black-marketing
Minister Bhatta has urged one and all to call 1137 if black-marketing is witnessed. He said, "Call on the free call number if anybody is found charging additional rate on the tagged price."
He further shared that the government was planning to begin hotline service at the Salt Trading Corporation to expedite monitoring. The Supplies Minister said that there was no shortage of edible goods in the market as required deposit is enough to last a few more months and therefore no one should be worried.
There was no shortage of salt as the corporation has a stock for 10 months. "Government is all prepared to begin effective monitoring of the market," Minister Bhatta asserted.
He said that the government has been effectively running health check desks in 37 border points in order to check possible outbreak of the novel coronavirus infection, hence there was no situation to panic as it is not confirmed to have infected anyone so far in the country.
On the occasion, secretary at the Ministry BaikunthaAryal shared that the market monitoring was continuous even on government holidays. He asked public support to control the black marketing adding that they should raise question if they were charged high price.