Central campus of technology starts producing hand sanitizer
March 18, 2020 | 9:57 pm&nbsp&nbsp&nbsp&nbsp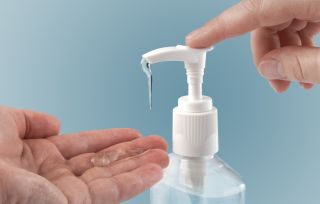 Birat Anupam / Itahari: In order to increase local sanitization against the backdrop of the COVID-19 pandemic, Microbiology Department of Central Campus of Technology (CCT) has started producing hand sanitizers in its laboratory.
This Dharan-based pioneering science and technology campus in State 1 has started this initiation with the assistance of the local government.
"Dharan Sub Metropolitan City gave us all necessary raw materials and we produced 100 literes of hand sanitizer in the first phase until Tuesday," informed Dhiren Limbu, the Head of The Department (HOD) the microbiology.
He added, "We are producing more in the upcoming days. We want to produce at least 200 liters in a day." Limbu said 1 liter of hand sanitizer could be produced in 10 minutes.
According to experts at CCT, Raw materials like ethyl alcohol, glycerol, hydrogen peroxide and distilled water are required to produce hand sanitizer.
According to Limbu, the trained students of the faculty and available technical resources are enough to produce hand sanitizer to meet local demand. "We are giving training to all wards of our sub metropolis and are ready to produce in state-level if we are supported by the state government," said Limbu.
Manu Bhandari, deputy mayor of Dharan, said the local government had utilized locally available human and technical resources to produce hand sanitizers.
"We heard repeated complaints from our local people that there was dearth of hand sanitizers in the local market and we collaborate with CCT to produce the sanitizer on our own," explained the deputy mayor. RSS