Minister Bhatta calls for support from all sides to cope up crisis
March 28, 2020 | 9:37 pm&nbsp&nbsp&nbsp&nbsp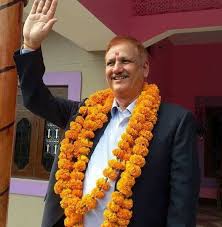 Kathmandu / Mar. 28 : Minister for Industry, Commerce and Supply, Lekhraj Bhatta, has stressed the need of cooperation from all sides to cope up with current crisis of COVID-19 pandemic in the country.
At a time when the government has enforced weeklong nationwide lockdown for five days to contain the spread of coronavirus in the country, which was resulted in the problems to especially to the daily wagers, National News Agency (RSS) quoted Minister Bhatta as saying. He also sought assistance from all sectors to brave the crisis.
According to him, most effective measure of preventing coronvirus is the lockdown. Everyone must know it. He urged people not to panic but prepared. He strongly urged all not to overstock the daily essentials to create artificial shortage.
He shared the information that Salt Trading, and Nepal Food Management and Trade Company have opened shops at different parts of the Valley to ease the shopping of daily essential goods.
In view of the dense population in the Kathmandu Valley, 15 trucks are readied to supply daily essentials in Kathmandu. A toll free number 1137 for anyone to complain on supply of goods was put in place. Bhaktapur and Lalitpur too have seven trucks each to supply essentials. Even the big enterprises as chain supermarkets like Bhatbhateni have been requested to assist in the supply system.
He made it clear that Nepal was importing cooking gas smoothly from India though India had enforced 21-day lockdown. In case the transport of gas bullet is obstructed, diplomatic efforts would be made, he assured.
In response to a question about availability of food stuffs, Minister Bhatta said current stock of food stuffs suffices for the country for six months. Analyses of possible shortage in 74 districts (outside Kathmandu Valley) are made and the concerned districts offices asked about the need assessment. Nepal Food Management and Trade Company has the stock of 25,000 metric tons of rice, 20,000 metric tons of paddy; while Salt Trading has stock of salt that is adequate for 10 months; sugar for two months.
Similarly, petroleum products are available for a week. It is imported vial pipeline. There won't be shortage of diesel. If the situation gets worse, Nepal Army, Nepal Police, and Armed Police would be given responsibility for the management of cooking gas supply. The industries are asked to ready 100 thousand of gas filled cylinders and similar number of empty cylinders.
The high level committee on prevention and control of the infection of COVID-19 was informed of the problems faced especially by the daily wagers. Discussion was underway to solve this problem, the Minister shared.
The people are repeatedly asked not to overstock cooking gas also because it is highly inflammable thing. Even a message oriented song will be presented on it.
As an alternative to the cooking gas, the government has prioritized induction heater.
As the Minister informed the umbrella organizations of the industrialists and business persons as FNCCI were also ready to cooperate with the government at this hour of need. For proper regulation of the supplies, the ministry officers and staffs are mobilized effectively. Those involved in black marketing are punished. Moreover, he said bilateral discussions were going on to open the check points of Tatopani and Keyrong.
As the face masks were being produced in large quantity, there won't be any shortage. Government has encouraged businessperson for it.
In case of medicine, the raw materials were imported from China. So, we are thinking of opening border points with China, Minister Bhatta said.
Essentials goods including medicine will be imported from China, India and other countries. For it, Nepal Airlines could be used.
The Minister further informed that China had said it would provide the essential things including medicines. RSS