MoHP confirms two new COVID-19 cases; Health Minister Dhakal hints at easing lockdown after May 7
May 1, 2020 | 10:01 pm&nbsp&nbsp&nbsp&nbsp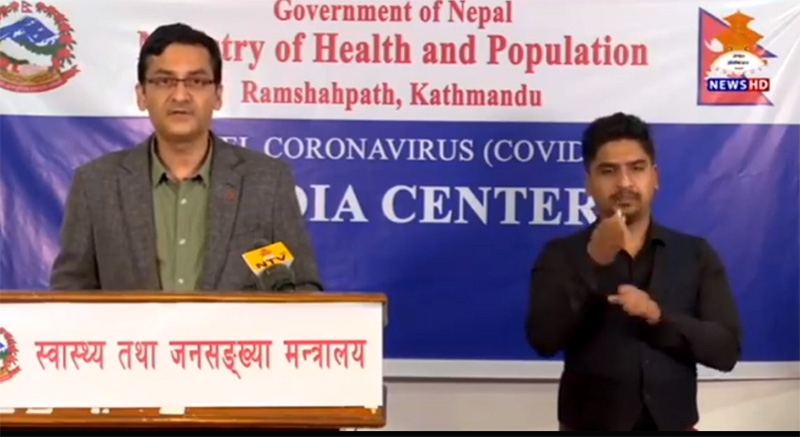 Kathmandu, May 1: One person each in Nepalgunj and Rupandehi tested positive for COVID-19 today.
A 25-year old male of Rupandehi and 60-year old male of Nepalgunj tested positive for the virus, informed Ministry of Health and Population by issuing a press statement.
With this, the number of COVID-19 patients in Nepal has reached 59.
Health Minister Dhakal hints at easing lockdown after May 7
Minister for Health and Population, Bhanu Bhakta Dhakal has hinted that the ongoing lockdown may be loosened after May 7. The ongoing lockdown which was extended for the fourth time ends on May 7.
Addressing a meeting of the National Assembly's Legislation Management Committee on Friday, Minister Dhakal said that the lockdown will be eased in such a way that the daily activities will be easier. "As we are receiving suggestions from the people of different walks of life on easing the lockdown restriction, we are doing homeworks on its new modality," he added.
According to Dhakal, the modality can be changed targeting agriculture, industry and other important activities. He went on to say that the lockdown would also be modified to make sure that patients suffering from chronic diseases get treatment.
"It's high time we applied new strategies for the lockdown. It should be facilitated by integrating additional essential services."
On the occasion, he also said that the government has now adopted a policy of rescuing and sending the people who have been left stranded along the way to their homes and at the Nepal-India border, following the Supreme Court's order in this regard.