RPP Chairman Thapa suggests to ease lockdown measures classifying risk zones
May 5, 2020 | 8:24 pm&nbsp&nbsp&nbsp&nbsp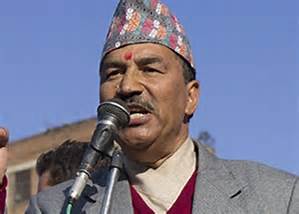 Kathmandu / May 5: The chairman of Rastriya Prajatantra Party (RPP), Kamal Thapa has suggested to the Nepal government to ease some measures of the lockdown, classifying risk zones in order to bring the daily life of people and economy back on track.
Amid a program in Makwanpur district, Thapa, while receiving 10 sets of Thermal Gun from RPP INGO Coordination Department, maintained that the government must adopt effective measures to ease the lockdown enforced across the country in order to bring the national economy back on track.
Chairman Thapa also received over 1,000 protective masks provided by RPP Indigenous Department leader, Ram Bhadur Thokar.
According to RPP Chairman Thapa, the medical supplies received will be handed over to the Disaster Management Committee, Makwanpur.