Almost 5,000 tourists still stranded in Nepal
May 23, 2020 | 10:29 pm&nbsp&nbsp&nbsp&nbsp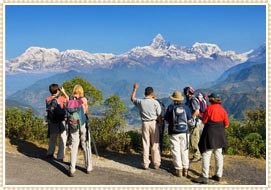 Kathmandu / May 23: While different countries have been operating chartered flights to repatriate their citizens from Nepal, there are more than 5,000 foreign tourists still stranded in the country, according to an official at the Department of Immigration (DoI).
"More than 5,000 tourists have already flown to their respective countries through rescue flights. But, there are still more than 5,000 foreign nationals stranded in Nepal," my republica daily quoted an official at the DoI as saying.
During the start of the nationwide lockdown, at least 20,000 tourists were in Nepal. "Since then, 5,000 have already flown back to their countries. Likewise, 10,000 tourists are not willing to return as they feel Nepal is safer than their own country," the official said, adding that some countries are in the process of taking their citizens back.
"The tourists stranded in Nepal have already started to face financial problems. The government of Nepal is holding talks with different governments for their repatriation," the official added.
As tourists have already started to face financial problems, a group of Chinese nationals stranded in Nepal due to the lockdown demonstrated and clashed with the police outside Singha Durbar a couple of weeks back asking both the Chinese and Nepal governments to help them return to their country at the earliest.
They [Chinese nationals] had clashed with the police willingly to grab the attention of the Chinese government, a senior police officer had told Republica Online after the incident.
Following the incident, four Chinese nationals faced indecent behavior charges for attacking police personnel. Meanwhile, they [Chinese nationals] have already been released on a bail amount of Rs 5,000 each.
In the meantime, the government has already suspended its visa services till June 2. The DoI has requested all foreigners in Nepal to remain patient regardless of their visa term.