National COVID-19 tally hits 603 with 19 new cases
May 24, 2020 | 9:41 pm&nbsp&nbsp&nbsp&nbsp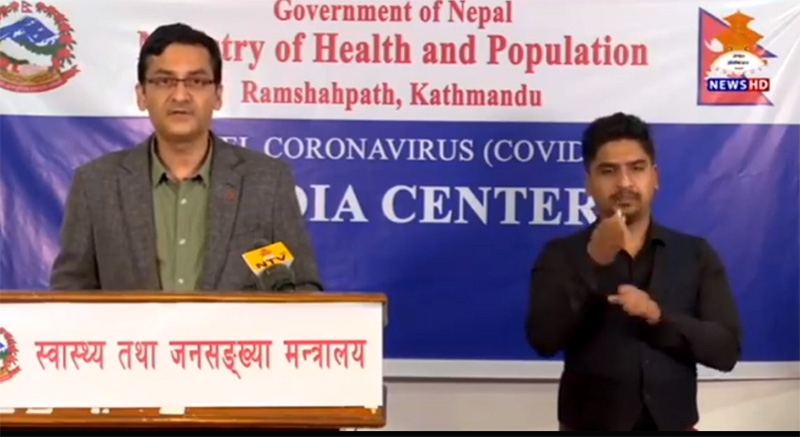 Kathmandu / May 24: The Ministry of Health and Population (MoHP) confirmed 19 COVID-19 cases today.
19 people from Morang, Bara, Birgunj, Kalaiya, Sarlahi, Rupandehi, Kathmandu and Nuwakot tested positive for the virus, informed Dr Bikash Devkota, spokesperson of the ministry in the daily press briefing today.
The virus has now spread in 42 districts and has infected 524 males and 79 females.
With this, the national COVID-19 tally has reached 603 including 87 cases of recovery and three death cases.
The remaining are receiving treatment in various hospitals in different parts of the country.
Curfew to be imposed, additional health workers deployed in Narainapur

Specialist doctors and health workers are being deployed in Narainapur Gaupalika of Banke district, which has been the COVID-19 hotspot lately with 114 positive cases including a death.
The meeting of District Security Committee held on Sunday decided to mobilise additional doctors, health workers and Nepali Army (NA) personel in Narainapur.
Nahakul Thapa, Lieutenant Colonel at Bhairabnath Battalion, Nepalgunj said, "A platoon of NA force have been deployed in Narainapur for security."
Due to the local intervention in taking COVID-19 patients to hospital and sneaking out of people in quarantine and isolation, the security committee decided to deploy additional security forces.
Kumar Bahadur Khadka, Chief District Officer (CDO) of Banke said that curfew had been imposed in Narainapur until next notice.
The Narainapur area was sealed prior to this. "We have decided to impose curfew to prevent the spread of COVID-19," said CDO Khadka.
"Likewise, we have decided to mobilise additional doctors and health workers from the district. Public awareness programmes about prevention of COVID-19 will also be done in Narainapur area on community level."
Until now, the COVID-19 tally in Narainapur has reached 114 and in Banke has reached 142 including a death case and 21 cases of recovery.
The remaining patients are receiving treatment in isolation in Nepalgunj, Khajura, Kohalpur and Dang.
A police official deployed in Narainapur has also been identified with COVID-19 infection.
Maniram Khanal, Chief Administrative Officer of Narainapur Gaupalika said that swab samples of only those staying in quarantine were collected until now.
Stating that some people were spreading misinformation and manipulating the COVID-19 patients and suspects to flee from quarantine, the Narainapur Gaupalika, by issuing a press statement had sought additional help from the government for mmobilisation of additional health and security workers.