443 prisoners freed amid lockdown, 25,000 prisoners safe from COVID-19
May 24, 2020 | 9:37 pm&nbsp&nbsp&nbsp&nbsp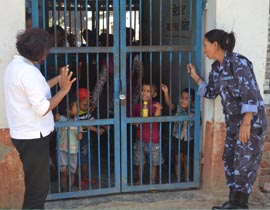 Keshab Raj Poudel / Kathmandu, May 24: As many as 443 prisoners from across the country have been freed amid nationwide lockdown implemented to prevent the spread of COVID-19.
74 prisons across the country including three jails of the Kathmandu valley have freed some of their cell inmates.
According to the Supreme Court's decision on March 19 and section 155 of the National Criminal Procedure Act 2074, 228 juveniles of child reform home and 215 prisoners from various jails nationwide were freed, infomred Pradeep Raj Kandel, Director General, Department of Prison Management.
"Using the rigts given by the law, preparations are underway to parole few prisoners on the occasion of Republic Day on May 28," said Kandel.
Kandel said that 74 prisons of Nepal, except those in Kathmandu Valley, were striving to stay unaffected from COVID-19 infection.
"Male ward and Female ward are separate in 53 prisons of Nepal. Currently, as many as 25,028 people have been imprisoned," said Kandel.
"As taking prisoners to the court or hospital is risky amid COVID-19 scare, we have managed health equipments for health workers, drivers and security workers who are on duty to take prisoners to the court or hospital," he added.
Kandel said that many donors had donated Personal Protective Equipments (PPEs), masks and gloves to the cells.
Bimal Kumar Kediya, Coordinator of the Art of Living (AoL) Nepal has donated 57 PPE sets and other essential supplies to the department.
The donated health equipments will be sent to all prisons, said Kandel.
Likewise, the National Human Rights Commission (NHRC) donated nine PPE sets and 900 masks, CNN hero Pushpa Basnet donated 100 PPE sets and 5,000 glove sets to the department.
Kandel said that all prisoners were safe from COVID-19 until now.