Yoga class for mental and physical well-being of quarantined people
May 30, 2020 | 9:21 pm&nbsp&nbsp&nbsp&nbsp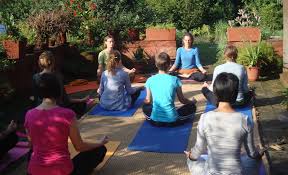 Chitwan / May 30 : Madi municipality in Chitwan has conducted yoga classes for stress management targeting 153 people staying in four quarantines.
The District Ayurved Health Center Chitwan facilitated and Madi Ayurved Ausadhalaya coordinated to conduct yoga training at Madhi-based Someshwor Secondary School, Madi Campus, and Diwakar Memorial School and Basic School, Govindabasti, said municipality Information Officer Prabin Bhandari.
During the sessions, herbal medicines useful in strengthening the immune system were distributed to quarantine centers free of cost, said Aaushadhalya Chief Ravi Shankar Shah.
As said by District Ayurved Health Center Chief Dr Kopila Adhikari, now one-hour yoga class is taking place every day in quarantine centers for health benefits of the quarantine dwellers. The local government has quarantine centers at 12 places and four are occupied by those people arrived from abroad.
Yoga practice is helpful in the management of mental as well as physical health and in the strengthening of immunity to several sorts of diseases, according to Dr Adhikari. "We hope the yoga class will help develop positive thoughts among quarantine dwellers and help them deal with potential feelings of loneliness and mental stress while staying in isolation."RSS