With 200 CCTV cameras installed, Lumbini in digital security surveillance
October 29, 2020 | 8:49 pm&nbsp&nbsp&nbsp&nbsp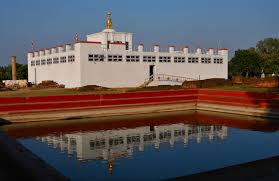 Laxman Poudel, Bhairahawa / Oct. 29: About 200 Closed-Circuit Television (CCTV) cameras have been installed for the security of important areas in Lumbini, the birthplace of the Buddha.
CCTV cameras and PTZ cameras have been installed to ensure security of the holy garden, Bihar area and various places in Lumbinigram.
According to the Lumbini Development Fund, 175 CCTV cameras and 25 PTZ cameras have been installed in Lumbini Garden area.
The PTZ camera allows to focus on a distant object and zoom in closer.
Earlier, CCTV cameras were installed in the most sensitive places, but not in all the important places.
Now, all the cameras are connected in a way that can be controlled from one place.
The Lumbini area will now be monitored round the clock by connecting CCTV cameras through fiber and wireless.
Diwakar Gautam, information technology engineer of Lumbini Development Fund, said that the security inside Lumbini Garden was now technology friendly.
The control of all CCTV cameras is done by the IT room in the development fund.
In the control room, Nepal Police and Lumbini Development Fund security personnel monitor the activities in the Lumbini area through cameras.
"We monitor every activity in Lumbini. We keep a record of everything that happens in the area, said Gautam.
"If any incident occurs or the area seems to be under risk, security personnel will be mobilized immediately," said Gautam.
Armed Police Force, Nepal Police, Tourist Police, security personnel of Lumbini Development Fund and security personnel of Bir Gorkha Security Company have been deployed in Lumbini for the security.
Similarly, according priority to the security of Lumbini, a company of the Armed Police Force is stationed here under the command of the Deputy Superintendent of Police.
Despite a great number of security personnel and forces in Lumbini, sometimes problem arises due to the lack of coordination among them
Saroj Bhattarai, chief of the project, said that Lumbini was fully within the digital security system and added that the security personnel were equally needed.
"We have strengthened the security system to monitor every second activity.
The security under surveillance needs to be strengthened," said, Bhattarai.
CCTV cameras have been installed under the Procurement of Transmission Backbone and IT Infrastructure Project. There are 12 TV screens in the control room from where the Lumini area gets monitored.
The work of the CCTV Cameras connection was started in the fiscal year 2074/75.
It took three years for Web-Max JV to complete the installment of the camera connection.
The project includes optical fiber laying, surveillance system, data center installation, wireless network, solar backup, digital signboard.